Brooklyn's Scholastic Ballparks
College and high school baseball have long been an important part of the Brooklyn sports scene. Even today, when you might think such activity lags behind more trendy sports, we still have Long Island University competing in Division I, and a thriving PSAL scene for softball and baseball. We have tried to list important scholastic fields here, other than those under the purview of Take The Field. Please bear in mind that strict classification is very tough, so if something seems to be missing, check the semipro parks and, of course, the other parks.


---
Carey Field
Willoughby and Stuyvesant Avenues and Hart Street.

St. John's, like Adelphi, was for some time a university and a prep school. The SJU's main campus is now in Queens, and the prep school is no more. Carey Field was a "dirt packed, stone strewn diamond" with only bleachers for the fans, home to both university and prep for baseball, football, soccer, and track. St. John's Prep put up some big numbers here- a 22 to 2 thrashing of arch rival Brooklyn Prep in 1938, and a 25 to 2 slaughter of Brooklyn Cathedral Prep in 1940. No-hitters were pitched for Prep at Carey Field by Redmond Hogan in 1930 and Walter Rooney in 1945. On May 25, 1954, Joe De Blasi of Holy Trinity pitched a no hitter against St. John's Prep, but lost the game 1 to 0, as three consecutive errors in the first inning allowed a run to score.





Carey Field's stone strewn diamnd in 1924
Picture from NYCityMap



Bob Sheppard, veteran stadium announcer for the Yankees, was St. John's Prep midget team first baseman in 1927. Sheppard won a game at Carey Field for the midget nine against Brooklyn Prep's crippled pitcher Johnny Dollard, 1 to 0, with a squeeze bunt in the 10th inning. He never forgave himself, and apologised in print in 1980.





1950 - Ronnie Kuehn of St. John's Prep dives back to first before
Holy Trinity's Ed Peterson can make the tag. St. John's won 9-0.
---
Adelphi Field
Classon Avenue and Park Place.

This field was about 10 minutes walk from the campus of Adelphi Academy, a private high school from which Adelphi College (later University) also evolved. The land was purchased in 1894 for $50,000, and a small open stand built in the south east corner, with dressing rooms underneath. In 1898 this park hosted a game between the Merits and the professional Colored Giants. Both schools played baseball and football here, as well as hosting track meets. The Ben Hur Athletic Association also played home games here. After a transition period through 1908, all Adelphi outdoor sports moved to the new Adelphi Oval in 1909.




---
Adelphi Oval
Fulton and Crescent Streets, Ridgewood Avenue.

Also known as Fulton Oval and Wayne Oval. This was baseball and football home to Adelphi Academy and Adelphi College from football season of 1907 through 1916, as well as such teams as the Euclids of the Uptown Church Athletic League. At Adelphi's Juniors vs Seniors field day in 1913, Idelle Scott "won great applause as the star twirler" of the baseball game. In a 1914 Uptown Church League match, Open Door defeated Wesley 8-5 in ten innings. Amazingly, Wesley pitcher Bruce struck out 20, while Open Door pitcher Muller struck out 17.

In 1911, this site was rumored to be in Charles Ebbets' sights as the location of a new ballpark for the Superbas, but nothing came of these stories.

In March, 1916 the plot was sold to building interests, and both schools moved to a new Adelphi Field over the border in Queens Village for the 1917 season. The current Adelphi Field, home of the university baseball team, is in Garden City, Long Island.






Football at Adelphi Oval, Adelphi baseball for 1909
---
Manhattan Beach Field
Ocean Avenue and Oriental Boulevard, just southeast of where the cycle track had been.

Also known as Seashore Field. Manhattan Beach Field was occasional home to James Madison High in the late 1920s and full time home for Long Island University from 1935 to 1941, and Brooklyn College in 1935.





Manhattan Beach Field in 1924
Picture from NYCityMap



On April 10, 1928, Madison High pummeled Haaren High 21 to 0 in a five inning game. 17 players got in the game for Madison: 15 got hits and the other two players scored three runs between them. On May 4, 1937, the Blackbirds rapped Brooklyn College for 21 hits in a 16 to 2 victory. As an added insult, LIU pitcher Bernard Pearlman, a converted first baseman, set a new Blackbird record by striking out 18 hitters. This field had room for at least 3,000 fans.

Now, it is part of Manhattan Beach Park, and the site houses smaller sports facilities including handball and basketball courts, and a picturesque, tree-lined little league field.





Manhattan Beach Field in 1937, Manhattan Beach Park today
Overhead photo taken from Google Maps
---
Kingsborough C.C. Field
Oriental Boulevard and Perry Avenue.

Near the far eastern end of the Manhattan Beach Peninsula is the spacious, well groomed home field of CUNY Kingsborough Community College softball and baseball. The Kingsborough baseball squad went 0-8 in the CUNY CC conference in 2006, 1-16 overall, after a 2-13 season in 2005. By 2011 the team had improved to 7-15, so the trend is hopeful. The school basketball team does win championships on a regular basis, however.

In September, 2009, the grass field was excavated, and subsequently resurfaced with artificial turf. Permanent soccer markings were also added. The Parks Department and the school shared in financing the project.





Kingsborough CC Field from overhead, 2009 and 2001, and as envisioned in the Scepter (KCC's student newspaper)
Photos taken from Google Maps






Kingsborough CC Field from ground level, 2009 and 2011
---
Friends School Field
McDonald Avenue, East 4th Street, Avenue L, next to Erasmus Field.

Also known as Friends Field, Village Oval, Trinity Oval (II), Poly Field (I), and Old Poly Field.

In 1906, the Polytechnic Preparatory School (better known as Poly Prep) acquired this site, then known as Village Oval for the Village Base Ball Club, and renamed it Poly Field. The first event Poly Prep event here was the school's track championships on May 18, and "on a field none too good for the purpose, a splendid set of contests was run off." The stars of the meet were F. Crafts, who won both jumps and both hurdle races, and A. North, who won the quarter mile, half mile, and mile runs.






Friends Field tucked in next to Sid Luckman Field
Overhead picture taken from Google Maps



School sports were not the only events seen here. The Trinity A.C. played home games here in 1909. On August 20, 1910, Franklin Trust defeated Mechanics Bank, who committed 20 errors, 13 to 6 at Poly Field to win the Banks League championship.

Poly Prep's football, track, and baseball teams remained until 1917. The site then hosted sundry football matches for a few years as Old Poly Field. Brooklyn Friends School purchased the field in 1923, renamed it Friends School Field, and used it for various sports until 1973. The early seasons were highlighted by an 18 to 4 home baseball win over Hoboken Academy in 1925. The greatest Friends School team of this era, though, was the 1931 football squad, which went 6-0, scoring 213 points and giving up none.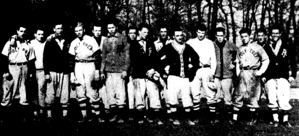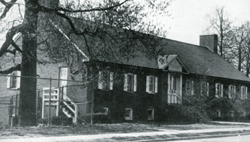 The 1910 Poly Prep squad, action at Poly Field in 1911,
Friends School field tennis and baseball, and the old field house
Poly Prep pictures courtesy Poly Prep Alumni
Friends School pictures courtesy BFS Alumni



The venue was sold in 1973 to the city for $2 million, is now known as Friends Field, and is mainly used for little league baseball, and softball. The Kings County Softball League holds matches at this park, among many others. The 1937 field house still stands, restored after severe fire damage in 1973. Football has long disappeared from the field.





The Owls of the Kings County Softball League in action at Friends Field, 2011



Brooklyn Friends baseball disbanded in the 1960s, but returned around 2005, along with softball. The baseball team now plays at Red Hook, and softball on the artificial surface of McLaughlin Park.





Friends School Field (right) and Erasmus Field (left) in 1924
Picture from NYCityMap
---
Poly Field (II)
7th Avenue and Poly Place.

Also known as New Poly Field. Poly Prep began play here in the 1917 football season, with two games on Alumni Day, October 13. In the morning, Poly Seconds defeated Manual Seconds, 6 to 0, and in the afternoon the senior squad kept the shutout streak going, defeating Commerce of Manhattan 10 to 0.

On April 27, 1932, Poly Prep's Larry Halprin held Princeton Prep to one hit in a 4 to 0 win. On April 30, 1949, Bill Sankhauser defeated St. Paul's 4 to 2, allowing just two hits and striking out 15 in a seven inning game. The Blue Devils won the Ivy Preparatory School League baseball championship an incredible 28 times between 1946 and 1990. The Bank Clerk's League also played games at Poly Prep Field - on June 29, 1928, Red Roberts of Nassau National Bank struck out 21 in pitching a no-hit 19-0 win over Brooklyn Trust.

The field is now officially named Harlow Parker Athletic Field, and the quality of the baseball field's turf is likely the best in Brooklyn outside of Keyspan Park. Renovation work around 2007 saw the track and football field moved to the south end of the lot, with the new gridiron surfaced in artifical grass. The softball diamond now sits diagonally opposite the baseball diamond, which remained in place.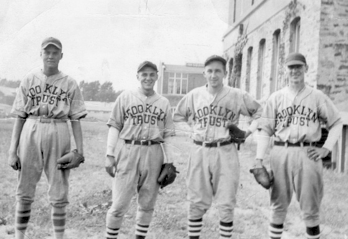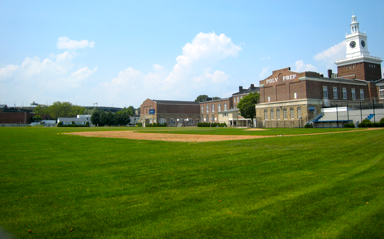 The Brooklyn Trust baseball team at Poly Prep in the 1930s, and Poly Prep Field in 2006, 2009, and 2011
Brooklyn Trust photo courtesy Chris Wallace, overhead pictures taken from Google Maps
---
Bushwick Field
Irving and Putnam Avenues.

Although Bushwick Field had been in use as early as 1916, it was not popular with anyone in its early years. The Bushwick High track team, for instance, was happier to risk life and limb practicing on city streets than brave the rut filled turf of their own field. The major highlight of the early era was Lefty Larsen's seven inning no-hit shutout of Boys High on May 22, 1918. The Bushwick High star fanned 14 and only allowed two runners on base, one by an error and one by a base on balls, winning 2 to 0.

In December, 1920, the Brooklyn Eagle reported on moves to renovate the play area surrounding Bushwick High School:

The Bushwick field has ample space for a baseball, socker and football field. Beside this there is also room for two tennis courts, a fine track and a large grandstand. Plans have been made by John C. Green, who has spent a great deal of time in planning it as one of the best in the city.





Bushwick Field in 1924, and 2006
Photos from NYCityMap and Google Maps



The new field was dedicated in 1922, after the school's track and field day. The field still lacked a grandstand, however, so the school's baseball team mixed home games between here and Wallace's Ridgewood Grounds, then Farmer's Oval in Queens, before playing at Bushwick Field full time from the mid 1930s. On May 14, 1924, New Utrecht outfielder Eppy Epstein became the first player to hit a home run over the center field fence. New Utrecht won the game 6 to 2, with pitcher Senderawitz striking out 12 and giving up only two hits.





Morrow Field in 2013



The field was recently remade to a design by architectural firm di Domenico + Partners, and has seen some use even though Bushwick High School ceased to exist after 2006 graduation, replaced by smaller specialized schools sharing the old campus. Bushwick High had a disappointing final baseball season, but one highlight was a 12 to 0 home win over Bryant in a five inning game. Pitcher Kelvin Morel gave up just one hit, and had three himself.

On the same lot, at the western corner, is Morrow Field. This space went from dust bowl to asphalt field at some point, and was named for Brendan "Sly" Morrow in 2006 when a renovated artificial turf surface was unveiled. His Bushwick Football League, founded in 1974, had been a major force in helping the youth of the area, and later those from all over Brooklyn.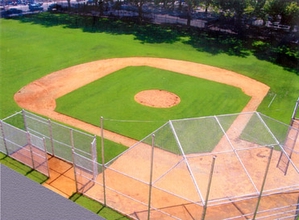 Bushwick Field
Overhead photo courtesy di Domenico + Partners
---
Prospect Heights Campus Field
Classon Avenue between President and Union Streets.

This field near the Brooklyn Museum was home to Cardinals softball through the end of the 2006 season. The team failed to play its last four games that season, after an 18-11 win over neighboring Clara Barton, then forfeited all games in 2007 before the program was closed. The campus field remained intact, though, and while and the Cardinals of Prospect Heights are gone forever, the Panthers of Clara Barton remain active and make use of the somewhat overgrown space. After a disastrous start to 2009, the Panthers recovered to a 7-10 record, highlighted by a 25-5 home win over Sheepshead Bay.





Prospect Heights Campus Field
Overhead photo taken from Google Maps
---
Brooklyn Athletic Field
Avenue L and East 17th Street.

Also known as General Wingate Athletic Field, Wingate Field, P.S.A.L. Field, and now Midwood Field (II). In August, 1909, the Brooklyn Eagle was fulsome in its praise of one year old Brooklyn Athletic Field, created by the Education Department for the use of local juniors:

In this Brooklyn field, which contains 160,000 square feet, are accommodations for all sorts of outdoor games. There are five tennis courts; an oval, upon which two games of baseball can be played simultaneously; a straightaway cinder path, on which a dash of 220 yards can be run; a 440-yard track, with but one turn, and a quarter-mile track around the oval. There are only three other tracks in Greater New York which have a straightaway course of 220 yards.

On the grounds are several buildings, one of which is a locker room, with 186 lockers, and a shower bath adjoining it. Another building is a sort of barn used as a storage house. But these buildings are only temporary. When funds are procured a cement grandstand, with adequate locker rooms and shower baths and other appurtenances, is to be erected. Plans are being prepared, and mistakes which are found in other grandstands on other fields will be eliminated. The Manhattan Beach branch of the Long Island Railroad runs alongside of the field, and the company is going to deed the city a part of its land for the erection of the grandstand, so that it wil encroach very little on the space devoted to the track.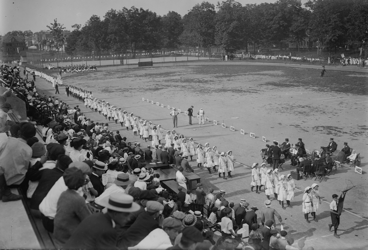 Vacation Playground Field Day in 1913 - 2,000 kids at Brooklyn Athletic Field



For the most part, Brooklyn Athletic Field saw track, soccer, and later football games, and still does, being present day home to Midwood High School's football and track teams. On June 9, 1923, Frank Hussey of Stuyvesant High incredibly tied the world record for the 100 yard dash of 9.6 seconds, winning by 10 yards while 5,000 spectators looked on.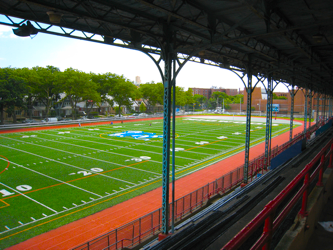 Midwood Field in 2009



Baseball games here were hampered somewhat by the narrow field dimensions, but continued all the same. On April 9, 1921, Jerry Robinson of Brooklyn Prep pitched his team to a 6-3 win over Manual, striking out 8 and taking advantage of the short left field to swat a 3 run homer. On May 7, 1931, Eddie Jasper of Montauk Junior High pitched a perfect game in defeating Seth Low Junior High, 3 to 0. This was Jasper's second perfect game in three weeks.

The grandstand, modeled after the one used in Athens at the 1906 Olympic Games, was built in 1911 at a cost of $65,300. A roof was fitted some time after 1913. The grandstand remains, as the oldest part of any ballfield in Brooklyn, and the railroad alongside is now the Q train.





Midwood Field in 2006
Photo taken from Google Maps
---
Jefferson Field (II)
Pennsylvania and Livonia Avenues.

Also known as Jeff Field. This incarnation of Jefferson Field opened on May 14, 1926. Thomas Jefferson High's first home game resulted in a forfeit, 9-0 over Bushwick High, when Bushwick complained of fans on the field and refused to play on after three innings. 5,000 were in attendance. The Thomas Jefferson High soccer and football teams also played home games at this field, but things were little better for them. The soccer team saw a game cut short by crowd invasion against Bushwick High in November, although they won, 1-0, by forfeit. Then a riot during the football game against James Madison High later that month caused sporting relations between the two schools to be severed, and Jefferson Field (II) was banned from local football contests for the whole 1927 season.

In the 1940s, War Department softball games were played at Jefferson Field (II). In August, 1942, the North Atlantic Division team scored twice in the ninth inning to tie the New York District Finance team, 5 to 5, then scored another three runs in the tenth to take an 8 to 5 win.





Thomas Jefferson High football at Jefferson Field (II), 1926 and 1955
1955 photo courtesy Al Cinamon



Jefferson Field was surrounded by a stone wall, and in later years was used for soccer and basketball, having a long row of half courts along one side. Harvey Sklar remembers:

I was just 7 years old, when I first entered, what I thought at the time, was Brooklyn's Pearly Gates. It was my August birthday and it included 2 very memorable birthday gifts. The first gift, in a large square box, was hand carried by my 10 year older brother. We walked 2 blocks from our house at 568 Vermont Street, with the IRT elevated train line overhead, to my never before seen magical location. We stopped in front of a large stone wall that supported large metal gate doors. When my brother swung open those gates, I was presented with the 2nd gift. I felt as if my life ended. I can still feel that excitement. It was like a secret paradise, and I thought you had to be at least 7 to get in. The place was Thomas Jefferson Field, A.K.A. Jeff Soccer Field, but mainly and simply known as just Jeff Field.

Jeff field was a large rectangular block that contained possibly the only made in America 1930s soccer field. The soccer Field was totally in cased with 20 foot wall stone and concrete greatness. On one large wall side, were 20 basketball half courts. Each basket varied in height from 6 feet to regulation. Once inside, my brother took me to the end 6 foot high basketball court. Gave me the basketball, inside the large square box, and said the paradise temple's opening prayer "shoot the ball into the basket" The rest is folklore. I played there from age 7 to age 24, each year advancing in levels from low basket to higher basket, in all kinds of weather, and in all seasons of the year. There were times when we would even bring a broom to sweep the snow and mud off the court.





Jeff Field in 1951
Photo from NYCityMap



What is really weird, that to this day when I walk out on a winter, first sign of spring. day, I can still feel the air of a Jeff field basketball activity day. All those basketball half courts taken and involved in a game, and another group lined up for the next game. God I loved that sight! Saturday was a total wipe out, coming home with sneaker blisters and loving it.

All those events of Jeff Field are wonderfully tattooed on my memory bank, and just get better with age. Like a fine Pinot Noir. However it is one that holds first place! It was one hot midsummer afternoon, in the mid 1950s, when marching through those same pearly gates came 30, at least 30, black teenagers. With drums! Lots of drums, and very colorful outfits. At that afternoon, there was only our one basketball game going on, which was, of course, halted immediately, and instantly followed by, that not to be duplicated, Jewish mesmerized stare. When those drum sounds hit those concrete walls it was like musical thunder, like I never heard! I might also add that those drums were not the only main avenue of attention. Their wardrobe was a total GQ statement! For 1950 it was a fashion designer's dream. Their shorts and shirts ranged from possible Beach Boy to a hint of LL Bean, but it was the hunting socks with the slight roll and Double S Spalding sneakers that got the final look.

When the drums ended the games began, and they were, for me, the best Jeff Field games I have ever been part of. Truly, 1950's best example of integrated basketball.

Some non sporting activities of interest also took place at Jefferson Field (II). There was a traveling vaudeville show in 1938. In 1948, Henry Wallace of the American Labor Party addressed a rally of 10,000 here, as part of a day long, sixteen stop tour of Brooklyn. In 1949, dances for the local youth were held on Wednesday evenings under arc lights.

Jefferson Field (II) was built over by Public School 13 in 1969, but still exists, in part, as an asphalt playground with little used diamonds and more active basketball courts marked out. Jefferson High moved to a new sports field near Spring Creek - see Jefferson Field (III), on the Take The Field page.





The remains of Jefferson Field, 2006 and 2010
---
Suydam Oval
Betweeen DeKalb and Willoughby Avenues, above Cypress Avenue.

This field was home to the Suydam Lorials, a lower level semipro squad of the late 1920s and early 1930s, and Brooklyn Tech High School around the same time. The field was very small and fully enclosed. In July, 1929, the Roosevelt Savings Bank nine - state champion of the commercial and banking ball clubs - took on Chatham and Phoenix National Bank at Suydam Oval, and won 8 to 2. This was Roosevelt's 42nd win in 43 games.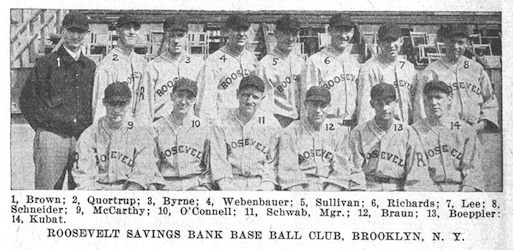 Suydam Oval in 1924, and the champion Roosevelts of 1929
Overhead picture from NYCityMap



The field lasted long after the twenties and thirties, however. Ken "Trolley Car" Schlapp, former captain of the present day Gotham Base Ball Club of New York, remembers:

After baseball was played there (and probably during), that area was where Trolley Cars were stored at night and those not in use, etc. In fact anyone that is my age or older that was from Ridgewood still calls that park "The Car Barns". Once the Trolleys were no longer used in NY, baseball fields, a track and bleachers were used for Grover Cleveland High School's teams as well as city track meets. In the late 70s, a young boy learned to play baseball (and handball and football and basketball) on these badly worn broken-glass filled fields. He later returned to this field as the captain and star of an awful Grover Cleveland Track team in the mid 80s. In the early 90s, the field was completely redone to put in Astroturf and once again become the home field of the Grover Cleveland High School baseball team. The nephew of the young boy mentioned earlier became a star shortstop (all-city honorable mention in 1999) for Grover Cleveland. Yes, of course, the young boy was the one and only Trolley Car of the New York Gothams, and the shortstop was Sparky's brother Genius (another former member of the Gothams).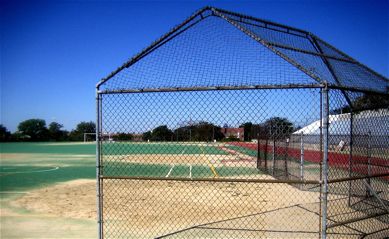 The Car Barns, as used by Grover Cleveland High
Overhead picture taken from Google Maps
---
Commercial Field
Albany Avenue, Lincoln Road (now East New York Avenue), Lefferts Avenue, Kingston Avenue.

Commercial Field was home to Commerical High School soccer, football, and baseball from around 1906. Other schools, such as Boys High, also called Commercial Field home from time to time, as did local teams in the American Soccer League in the 1930s, and the short lived Brooklyn Horsemen of the American Football League in 1926.

Commercial wrapped up the 1908 P.S.A.L. baseball title with a 4 to 2 victory over Stuyvesant on June 13, 1908. In October they rubbed salt into the wound with a 17 to 0 football victory. On June 26, 1916, four days after pitching a nine inning no-hit game, Erasmus Hall's Waite Hoyt appeared in relief against Manual High, earning the win with 6 2/3 hitless innings, extending his no-hit streak to 15 2/3 innings. In May 1937, Marty Cogan of Samuel J. Tilden High defeated Alexander Hamilton High 14 to 1, striking out 12 and pitching a no-hitter.





Brooklyn Eagle photo spread of a track meet at Commercial Field, May 1909



The lot was acquired by the Parks Department in 1940, and the field survives in part today as a multi-sport facility called Hamilton-Metz Field, with baseball markings intact and a regular supply of Police Athletic League junior ballclubs. In 2006 a $1,570,000 restoration was completed, with the field relaid in artificial turf. Parks Commissioner Adrian Benepe and Council Member Yvette Clarke played ball with the kids at the official re-opening. Neighborhood residents often refer to the field by yet another name, Lefferts Park.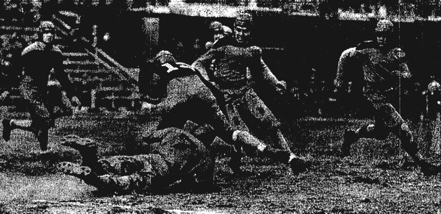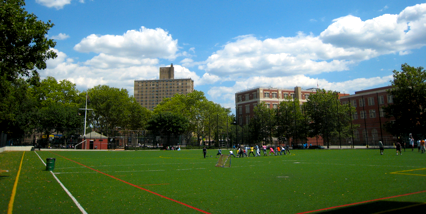 Football at Commercial Field in 1929, Hamilton-Metz Field in 2009



Commercial Field is one of the rare venues in Brooklyn with a long and continuing hstory of cricket. In 1929, a visiting Bermudan cricket team played several matches at Commercial Field, defeating All New York and All Brooklyn elevens, and returned for more tours during the 1930s. A turf cricket pitch still existed in 2006, and the game is played today on the artificial surface, too.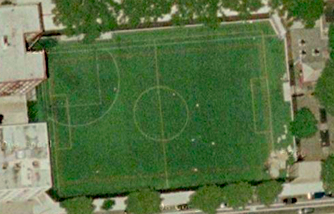 Commercial Field in 1924, Hamilton-Metz Field before and after renovation
Photos taken from NYCityMap and Google Maps
---
Flatbush Oval (II)
Avenue H, Flatbush Avenue, Nostrand Avenue.

Also known as Flatbush Field (II), this field was home to Erasmus Hall's high school games on and off between 1921 and 1927, and well as Brooklyn Tech, the Flatbush Caseys and the Cooper Union football team. The field was also used for soccer into the 1940s. In April, 1923, a new Flatbush semipro team was formed to play at Flatbush Oval, and after District Attorney Charles Dodd threw out the first pitch, the club won its debut game 7 to 1 over Ridgewood A.C.





Flatbush Oval (II) in 1924



On May 23, 1923, Erasmus Hall and Manual Training High Schools met for the P.S.A.L. championship of Brooklyn at Flatbush Oval. After five innings, Manual led 6 to 2, but Erasmus rallied in the sixth and seventh to lead 7 to 6. In the ninth inning, Manual got a runner to third, who was caught off base in a rundown, but overeager students on the field interfered with play. The third baseman threw wildly and the ball was lost in the crowd. As the runner came home, he was first called out, then sent back to third instead. Both decisions incensed the Manual team, and the runner refused to return. The umpire then awarded the game and the championship to Erasmus Hall, and all hell broke loose. The New York Times reported:

As soon as the decision was announced, both sides poured upon the field and engaged in a melee. Fists and arms fanned the air like windmills and many eyes met hard knuckles. There was no sex discrimination. By the time the squad of special policemen on the grounds had quelled the disturbance swollen eyes, scratched faces and flying locks were everywhere in evidence. While the faculties of both schools reported no casualties, it was reported last night that many reprimands were handed out for conduct not entirely becoming young ladies.

The site of this field became part of the Brooklyn College campus around 1935.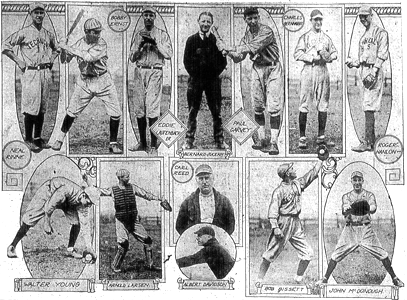 Erasmus Hall's football team of 1922 and Brooklyn
Tech's baseball team of 1924 played at Flatbush Oval (II)
---
Brooklyn Prep Field (I)
Nostrand Avenue, Crown Street, Rogers Avenue, Montgomery Street.

Also known as Penn Hill Ground, Brooklyn College Field (I), Kingston Oval, Kingston Field, and St. Francis Field. This ground stood on Penn Hill, a name derived from the penitentiary which used to stand on the same site. Brooklyn Prep was a Jesuit school in Crown Heights from 1907 to 1972, which until 1913 offered university education, and was called Brooklyn College and Preparatory School. This explains why they could play on Brooklyn College Field (I) some years before the present day Brooklyn College was founded. The Kingston A.C. played here through 1909, before moving to the Parade Ground, and St. Francis A.C. played here until moving to Hawthorne Field. The Flatbush Club also called this field home for a time.





The 1908 St. Francis squad, which split two games with
Oakland on Penn Hill, winning 16-5 and losing 13-0



The early 1900s clashes between Flatbush rivals St. Francis and Oakland here were legendary, and often ended in fights between the two teams and their fans. On one occasion, the nines remained in a scoreless standoff until Oakland finally broke the tie, winning 1-0 in fifteen innings.

In an unusual game on June 3, 1915, Brooklyn Prep defeated the Augustinian Academy of Staten Island, by scoring 8 runs on just 5 hits, against 6 runs on 3 hits. The teams did, however, tally 1 hit batter, 3 errors, and 10 walks.





Brooklyn Prep ace Frank Baumann



Brooklyn Prep produced a string of fine players on the diamond, but a trio of pitchers stands out from the rest. In 1920, Frank Baumann pitched the Blue and White to an easy Catholic Schools title, flexing his muscles with a no-hitter against St. Francis at the Parade Ground, in a 21-0 win. In selecting him to the All-Boro Nine that year, the Brooklyn Eagle pronounced Baumann to be "in a class by himself as a dispenser of twisters." Baumann went on to star for Georgetown and, back in Brooklyn, the Crescent Athletic Club.

Beginning around 1927, this field was built over, and saw no further action. Baumann's two great successors would twirl their magic on a new field, just a block away.





Brooklyn Prep Field (I) in 1924
Picture from NYCityMap
---
Brooklyn Prep Field (II)
Nostrand Avenue, Crown Street, Carroll Street.

Brooklyn Prep's baseball team moved a block north of the old Penn Hill Ground, onto the campus field, some time around 1927. The field was surrounded by a high wire fence and known to students as the Rock Pile or the Dust Bowl. Right fielders had to play deep because the field sloped downwards after first base.






Brooklyn Prep pitching champs Dollard and McEvoy



On April 28, 1930, Johnny Dollard, a Brooklyn Prep pitcher who had lost both feet in a railway accident in 1923, allowed just three hits in a 27 to 0 home win over Columbia Grammar en route to the Catholic Schools city championship. Dollard's handicap was a problem on the field when hitters bunted, but that was a task in itself. As the Eagle said: He has tremendous speed and a nice change of pace to add to his effectiveness. In addition his curves are of the baffling variety because they never break the same way twice.





Brooklyn Prep's on-campus field in 1951
Picture from NYCityMap



The greatest of the three hurlers was the "Schoolboy Vander Meer," left handed Al McEvoy, pitched two no-hitters in three starts in 1946, defeating St. Augustine's at Brooklyn Prep and St. Francis at the Parade Ground. McEvoy also won his start for Brooklyn's Eagle All Stars against the World All Stars, 4 to 2, giving up no earned runs and fanning 13. McEvoy kept his arm in shape by sawing wood in the off season. He starred for Holy Cross and made it to the minor league Newark Bears, one step short of the New York American League team, but sadly blew out his arm and never saw the majors. McEvoy's pitching partner Don Moore later made it three no-hitters for Brooklyn Prep's 1946 season in a 21 to 0 thrashing of Regis at Brooklyn Prep.

Long serving Penn State football coach Joe Paterno was also a sports star at Brooklyn Prep, and Gil Hodges, Jr. was a catcher there in the 1960s.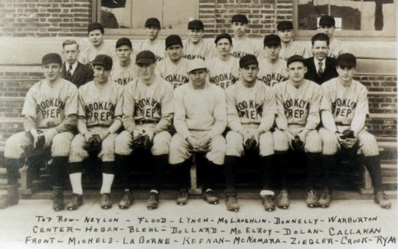 Brooklyn Prep's champion 1930 squad, action at Brooklyn Prep Field in 1949
Team photo courtesy Brooklyn Prep Alumni
---
Brooklyn College Field (II)
Ocean Avenue, Avenue H, Bedford Avenue, on Brooklyn College campus.

Originally known as Flatbush Field (III), then Brooklyn College Field, and later Roosevelt Field, this field was home to the Brooklyn College team, also known as the Kingsmen, from about 1940. The field is part of the Brooklyn College campus, one of the most beautiful in the country. Architect Randolph Evans drew up plans for a new Brooklyn College in 1932, and work began in on the site 1935 after the plot was purchased for $1.6 million.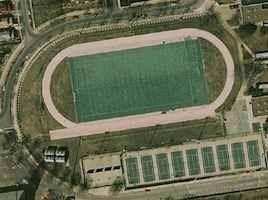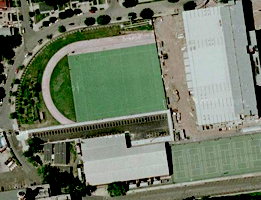 Brooklyn College Field in 1951, 1996, and 2009
Photos taken from NYCityMap and Google Maps



Brooklyn College fielded some awful nines in the Metropolitan Conference in the 1950s- in 1958 the team received 14 walks from NYU pitcher John Sasciano, but still lost 13 to 5. In 1959, St. John's visited and handed the Kingsmen a 26 to 4 thrashing. The field was also used as a venue for major high school baseball and football events, such as P.S.A.L. finals, right up until the 1980s, when the field was relaid in Astroturf.





Brooklyn College Field in 1940 and 2010
1940 photograph courtesy Brooklyn Public Library—Brooklyn Collection



Nowadays Brooklyn College Field is best known for its colony of monk parrots. Buildings were extended over the eastern part of the field around 2005, leaving an incomplete, decaying running track, and an ill tended playing surface, insufficient for NCAA competition. A single, forlorn football goal was left at the western end of the lot, near a rusted batting cage.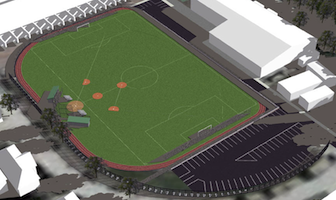 Brooklyn College Field's 2012 design and implementation
Photograph from Brooklyn College Athletics



Brooklyn College planned to extend the field further south, and make it viable once more for softball and soccer. This would have destroyed existing parking space, originally scheduled to be replaced by removing a very popular community garden. Court action was eventually stalled with a settlement that involved parking space being installed at the western end, leaving a rectangular field for softball and soccer. Ground was broken for the new field in September, 2011, and it was opened a year later by Borough President Marty Markowitz. The renovation cost $4.5 million dollars, yielding an artificial surface measuring 355 by 250 feet, with a three lane running track around the edge.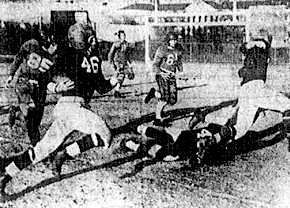 P.S.A.L. Championship action: baseball in 1946, football in 1950
and Monk parrots at Brooklyn College's athletic field
Parrot photo courtesy Steve Baldwin of BrooklynParrots.com
---
Grady Field
Shore Parkway and Brighton 3rd Street.

William H. Grady High School has played baseball on this tree lined lot since the 1950s. Recent Falcons teams have fared very poorly, going 0-16 in 2006. This awful season featured 21-0 and 24-0 defeats at Grady Field. In 2007, the field was completely rebuilt by William A. Gross Construction Associates, who did much of the work at the Parade Ground.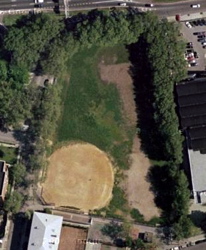 Grady Field before and after
Overhead pictures taken from Google Maps
---
Pratt Field (I)
Grand and Myrtle Avenues.

This field was laid out in 1899, at a cost of around $3,000, a gift of Frederick B. Pratt. The field was opened with a day of athletic contests, in which the class of 1900 soundly defeated the other classes. On April 28, 1900, Pratt squeaked past Browne's Business School, 3 to 2. Being intended for athletics, the field was not adequate for a high standard of baseball, and Pratt's squads played mainly on the road or at Wallace's Ridgewood Grounds. As the Eagle put it in 1907: Only Pratt is without a suitable location, although Pratt Field will suffice for practice.

When the new Pratt Field was ready in 1913, this one was given to the city for use as a playground, complete with baseball diamond and even a three hole golf course. On July 26, 1916, O'Donnell of the Alpine Juniors pitched a no-hit shutout at Pratt Playground to defeat the National Juniors 9-0. The playground has since been built over, some time after 1932.

Pratt Institute teams were known variously over the years as the Engineers, the Cannoneers, and the Big Gold.





Pratt Institute's 1907 high school baseball squad
---
Pratt Field (II)
Willoughby and Myrtle Avenues, Emerson Place, Steuben Street.

The new Pratt Field, next to the previous one, was opened in the spring of 1913. Work began in 1912, when the block adjoining the "old baseball cage" was purchased and its buildings demolished. Surveying work on the field was performed by Pratt architectural students. The field was surrounded by a 40 foot wire fence, and had an enclosed batting cage. The distance from home plate to center field was only 280 feet. The Brooklyn Eagle said in 1935: The Pratt nine has always been handicapped on its home diamond, where an ordinary infield pop fly goes for a homer over the outfield fence.






Students crowd the field for Pratt baseball, even on a wet day
Courtesy of Pratt Institute Archives



The Pratt Institute played baseball here as part of the Knickerbocker Conference against the likes of Hunter and NY Maritime. The local Central City nine also called Pratt Field home, hosting regular Saturday double headers in the 1920s. On April 25, 1931, Frank Boemerman pitched a no-hitter, allowing just one walk, striking out 15, and helping himself with a home run, as Pratt demolished Hamilton College 15 to 0. On April 15, 1950, Pratt's Hank Quell also hurled a no-hitter, defeating Jersey State Teachers 2 to 0. Also deserving a mention is the appropriately named Cannon, who twirled two one-hitters at Pratt Field in the space of eight days, in May, 1927.

Part of this site remains in use for sporting purposes today, as artificially surfaced volleyball, basketball, and handball courts.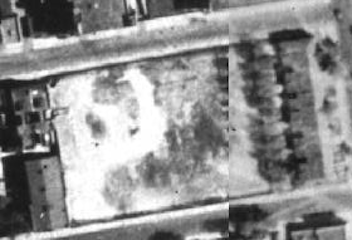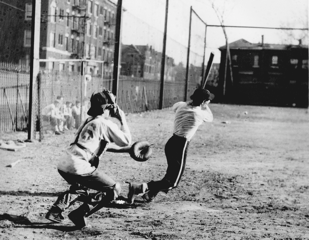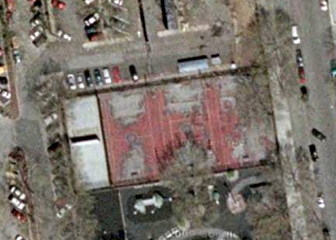 Pratt Field (II), then and now
Action photo courtesy of Pratt Institute Archives,
overhead photos taken from Google Maps and NYCityMap
---
Pratt Field (III)
DeKalb and Classon Avenues, on Pratt Institute campus.

The Pratt Institute field moved here in late 1957. The mid to late 1960s saw an era when the Prattler, the student newspaper, regularly complained that the baseball team needed more players and was often playing with no one on the bench. Pratt's two major highlights at the field in this era were an epic 8-7 upset of arch rival Long Island University in 1967, and a no-hitter by John Mertens against Brooklyn College around 1968. Alumnus Richard Lebenson remembers the ground:

It had a 400 foot center field fence and a pretty short right field "porch" with a sloped small hill leading up to a high fence in right. Home plate was by the DeKalb avenue side (the left field foul line being parallel to Classon avenue).

This part of the campus is now mostly a parking lot, and Pratt no longer fields a baseball team.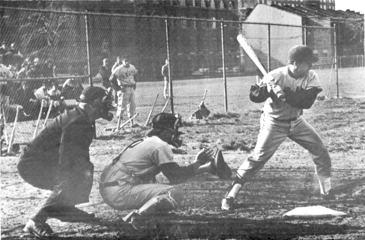 Action and practice at Pratt Field (III) in the 1960s
Courtesy of Pratt Institute Archives
---
LIU Field
Willoughby Street and Ashland Place.

After playing for many years at such venues as Erasmus Field and Ebbets Field, in 1960 the Long Island University Blackbirds moved onto a diamond at their Brooklyn, or Zeckendorf, Campus. The team still plays on this field. The field has quirky dimensions because it is shared by the softball, lacrosse, and soccer squads. The surface is now an artificial one, laid around 2000. On September 23, 1961, pitchers Tom Catalano and Bob Campesi hurled the Blackbirds to a 6 to 1 no-hit win over Adelphi.





LIU Field from above, 1996 and 2006
Pictures taken from Google Maps and NYCityMap



Both diamonds are served by raised aluminum bleachers, which lends an especially claustrophobic atmosphere on the softball diamond, as it is also hemmed in by tall buildings on both baselines. The Blackbirds, competing in the Northeast Conference, see small but dedicated, raucous crowds to this day for both sports. The softball team is especially powerful, having won the conference seven times between 1999 and 2008. On May 1, 2010, LIU took both games of a doubleheader from Robert Morris University, and pitcher Blaire Porter became the Blackbirds' all time wins leader, with 73, as her battery mate Mariesha Marker singled in the winning run with two out in the bottom of the seventh inning of game 1.

Between the 2011 and 2012 seasons, new artificial turf infields by Cannon Design were installed on both the baseball and softball diamonds, enabling easier year round use of the field by all sports. The baseball diamond also followed professional trends with a new brick backstop.





LIU vs Robert Morris at softball on May 1, 2010:
the Blackbirds won 4-3, in a dramatic 7th inning comeback,
and baseball on the new field in 2012 - Monmouth beat LIU 3-2.
---
City Line Park
Conduit Avenue between Atlantic Avenue and Linden Boulevard.

City Line Park, former home of the Ridgewood Pumping Station, was assembled in pieces over a period of years, until the Parks Department owned all the land in 1949. The pumping station was not demolished until the 1960s.

The main field here, at Atlantic Avenue, has been home to East New York Vocational and Tech School since around 1955. In 2006, East N.Y. Transit Tech (same school, new name) scored 67 runs in the first three games of the season, and went 16-0 to win the Brooklyn division of the P.S.A.L. East New York Transit Tech's team is variously known as the Conductors, the Subway Cars, and the Express. The field is also home to the Pedrin Zorrilla Baseball League, a semipro league of Hispanic players, many of them former minor leaguers looking for another shot at the big time. The league has operated in East New York since 1957, and currently features such squads as the Falcons, Reds, A's, and Cubs. The Bearcats of Baruch College also play games here.

There are also several other fields, one asphalt and the rest grass, further east along City Line Park.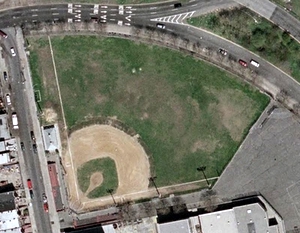 The lovely asymmetry of the main field, and
the smaller fields of City Line Park
Overhead pictures taken from Google Maps
---
BrooklynBallParks.com is brought to you by
Andrew Ross (wonders@brooklynballparks.com)
and David Dyte (tiptops@brooklynballparks.com).
Please contact us with any corrections, additions, or requests.