Brooklyn's Grand Public Parks
The Parade Ground is a singular jewel, unique in its longevity as a ballfield, but Brooklyn has, over the years, seen a great many more public parks with diamonds open to all. On this page, we present a selection of the most significant of these, in our judgement. We have made every effort to cover the rest on our page of other parks.


---
Commodore John Barry Park
Navy Street and Park Avenue.

Home to two public baseball diamonds, this is the oldest park in Brooklyn. It was first acquired by the Village of Brooklyn in 1836, and known as City Park for 115 years. In 1887, the Brooklyn Eagle was unimpressed with the place:

The City Park is an unfortunate spot. It is not known to have ever contributed to the enjoyment of a single human being, while for most persons a visit to it is extremely depressing. But whatever disposition may finally be made of it, great care should be taken in providing its substitute lest the latter turn out to be scarcely more satisfactory.

City Park did eventually become a popular place, however, a major W.P.A. project in 1939 saw century old trees relocated and two baseball diamonds installed, along with facility for football, basketball, and handball. 2,000 people attended a re-opening ceremony on June 7, 1940. Bleachers to seat 1,500 were added a year later. The park hosted games of the City Park League during the 1940s.

The beginning of the end for baseball at City Park was noted in 1949, when C. Tod Colvin, a former third baseman for the Cincinnati Reds and one time captain of the Bushwicks, wrote to the Eagle:

My pressure went up a couple of dozen points when recently, on my way to business, I noted one of the playing diamonds in the Navy Yard section being used as a dumping ground. Now I note the second field is getting the same treatment, piled six feet high with dirt, thus ruining two fine fields that were once enjoyed for a number of seasons by the youth of that and surrounding sections.

But once again, the park survived. In 1951 it was renamed for John Barry, who helped to found the nearby Brooklyn Navy Yard. Little league baseball and Pop Warner football are common sights at Barry Park nowadays. On April 1, 2009, the Boys and Girls High softball team beat George Westinghouse 26 to 0 at Commodore Barry Park. Lateefah Salters hit a home run, stole four bases, and scored five runs, but the star performer was pitcher Adjua Adan David, who pitched a no hitter, giving up only four walks.





The worn diamonds of Commodore John Barry Park - 1940, 2006, 2009
1940 photograph courtesy Brooklyn Public Library—Brooklyn Collection
Overhead picture taken from Google Maps
---
Highland Park
Highland Boulevard, Jamaica Avenue, Jackie Robinson Parkway.

Not to be confused with Hilltop Park, the former home of the New York American League squad, or places of the same name in several other states, Highland Park was assembled with a series of land purchases between 1891 and 1906. More confusingly, the park was for some time known as Ridgewood Park. Ballfields were in place by 1908, and in 1915 the New York Times reported that five were available for use by permit. Today, we count six diamonds, including two with lights for evening matches. American Legion, little league, church league - including the Uptown Church League, and other amateur baseball has long been played at Highland Park. Presently, Highland Park is home to the Tigers of Bushwick Campus.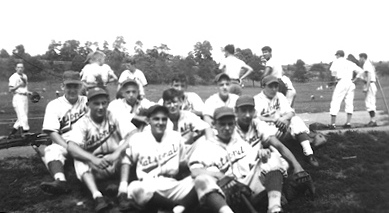 Baseball at Highland Park in 1915 and 1946



On May 27, 1935, East New York Vocational's George Pagano followed up a one hit shutout from the previous week, going one better with a no hit shutout at Highland Park. The Central Needle Trade High School hitters struck out 12 times against Pagano, and had no answer to his hitting, either. He made three hits, including a triple, as East New York won 14 to 0.





Highland Park in 1916, with a fresh diamond clearly in view



In 2007, Parks Commissioner Benepe announced a plan to drain part of the old Ridgewood Reservoir, which is within Highland Park, and create more ballfields. The plan, which was subject to protest from the start, was rejected in 2008 on environmental grounds.

Bushwick Campus played its PSAL home games at Highland Park's Field Number 2 in 2010, going 3-5 in those matches and 6-10 overall. In an 8 to 0 win over Grover Cleveland High on May 4, pitcher Alberi Guzman held opposing batters to just three hits, adding a bases clearing double in the fourth inning to his remarkable day.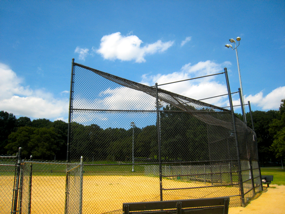 The sprawling grounds of Highland Park
Overhead picture from Google Maps
---
Red Hook Recreational Area
Both sides of Bay Street, between Court and Columbia Streets.

This 58.5 acre area contains both the former Excelsior Grounds and Edison Field (I). Originally planned in 1934 as part of a major series of works across the city under the aegis of Robert Moses, it was laid out by landscape designer Gilmore D. Clarke. Red Hook Stadium, the major field at the site, has been home to track, lacrosse, cricket, rugby, and soccer for many schools and clubs, including football and baseball for St. Francis Prep from the late 1930s, and later baseball for St. Francis College.

Nowadays there are still all manner of playing fields, and hugely popular soccer and baseball teams representing the local Mexican community- the Mexican Baseball League of New York began here in 1985 with four teams and now has 32. In 1952, the Brooklyn Cricket Club defeated the Australian Consulate XI by 153 runs at Red Hook Stadium.

The Red Hook Recreational Area is best known in the city for its Central and South American foods. Van and tent based food vendors follow the baseball and soccer games, serving authentic delicacies from all over the region, from pupasas to ceviche and agua fresca to queso y loroco. The New York Times even formally reviewed Red Hook's vendors in 2006, rating them a "top pick."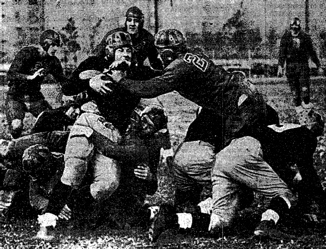 Red Hook Stadium in 1940: St. Francis 21, All Hallows 0,
and the recreational area as it appears today
Overhead photo taken from Google Maps
---
Marine Park
South of Fillmore Avenue and Marine Parkway, to the foot of Gerritsen Avenue.

Marine Park, the largest park in Brooklyn, dates to 1924, with a 150 acre gift from developers Pratt and White to the city. In a long series of southward expansions since, Marine Park has grown to cross several major roads and cover 798 acres, making it Brooklyn's largest park.

On August 27, 1930, Mayor Walker dedicated the first baseball diamond at Marine Park. It cost $5,800 to build, and was christened with a game between two public park junior teams. Since then, plans have changed many times, millions of dollars have been spent, and Marine Park now features a golf course, superb landscaping, all manner of amenities, and thirteen ballfields in the main park area. In the middle of all the fields are two cricket pitches, which see constant use in summer also. The main fields are also collectively known as Pratt-White Athletic Field, a name granted in 1939 to honor the original gift of Marine Park's land.






A panoramic view of the Pratt-White Ballfields in 2009



In 1946, a light plane crashed into one of the Marine Park fields during a game, and while the players scattered safely, pilot George Sadler did not survive.

On May 7, 1950, Joe Warnack of the Disney All Stars pitched a no-hitter at Marine Park in defeating the Flatbush Cubs, 4 to 1. The Cubs' run was scored by Lou Bacatti in the fourth inning, on a steal of home.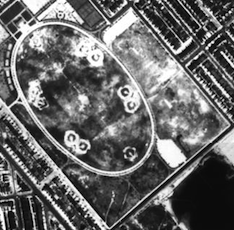 Marine Park's main fields in 1951 and 2006, Safe at home in 1944
Overhead photos taken from NYCityMap and Google Maps



In April, 1979, New York Mets manager Joe Torre wrangled $60,000 from the city to build two ballfields side by side in the neighborhood where he had grown up, in the middle section of Marine Park, at Avenue U and East 38th Street. These fields became home to the Joe Torre Little League, which placed no small amount of pressure on his 14 year old son, Michael. The fields remain, now named Rocco Torre Ballfields in honor of Joe's late brother. One unusual feature here is that the dugouts are fully enclosed, providing protection from foul balls and weather alike.





Rocco Torre Ballfields in 2006 and 2009
Overhead photo taken from Google Maps



The Gerritsen Beach area at the south end of Marine Park is named for Dutch colonist Wolphert Gerritsen. The Gerritsen Beach ballfields, which also include an airport for model planes, were renovated in 1993 at a cost of $192,000. The Brooklyn Meadows Softball League is one of the leagues which plays here. In 1928, this site, then not far removed from pure swampland, saw a match between Cardinal Gibbons Council of American Legion and Woodhaven Aldines.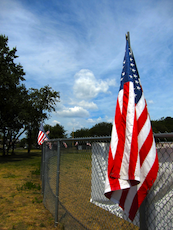 Gerritsen Ballfields and Larry Veling Memorial Field



Dr. John's Playground, just north of the Gerritsen Beach Ballfields, was opened in 1936, and renovated in 1999 at a cost of $500,000. It was renamed for Dr. John Elefterakis, a graduate of neighboring P.S. 277, who served the local community as a much beloved physician until his untimely death in 1997. The ballfields here are of the asphalt and rubber surface variety common in Brooklyn playgrounds, and are regularly used by the school.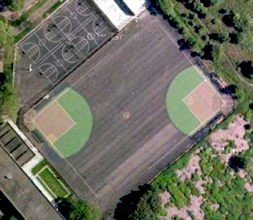 The ballfield at Dr. John's Playground in 1951, 2006, and 2009
Overhead photos taken from NYCityMap and Google Maps



The Gerritsen Beach Little League has been in continuous operation since 1952, and begins each season with a march along Gerritsen Avenue to Larry Veling Memorial Field, the southernmost field in the park. Larry Veling was a firefighter who died at the World Trade Center on September 11, 2001, and a ceremony to dedicate the field in his memory took place on April 13, 2002. Over 2,000 locals attended the event. The outfield fence is lined with American flags, and the scoreboard features the logo of the local firehouse.





Gerritsen Ballfields from overhead, the little league field in 1951 and 2006
Photos taken from Google Maps and NYCityMap
---
Prospect Park
Prospect Park Southwest, Prospect Park West, Flatbush, Ocean, and Parkside Avenues.

Prospect Park dates to 1866, when construction began on the grand design of Olmstead and Vaux, most famous then, as now, for designing Central Park in Manhattan. At 585 acres, which represent all kinds of topographies and environments, Prospect Park is Brooklyn's most famous, varied, and beautiful public space. Architectural details were later added by the firm of McKim, Mead, and White, and extensive renovations were undertaken at various times through the twentieth century.

In 1959, during work on the Parade Ground, Robert Moses had ballfields installed where tennis courts had once covered the westerm end of the Long Meadow of Prospect Park. The new, enclosed fields came complete with chain link fence and brick bleachers. In 1979, a long term, major restoration of Prospect Park was begun, overseen by Tupper W. Thomas, who would remain in charge of the park until 2010. In 1987, the Long Meadow ballfields were stripped back and reopened in a more blended way, with fence and bleachers removed.

Today, the Long Meadow Ballfields host junior baseball and softball games of the Prospect Park Baseball Association, which organizes leagues in parks all over Brooklyn. The fields are open for public use, with a permit, also, and are in constant use every weekend through the summer, as busy as the Parade Ground. Every April, the largest of Brooklyn's many little league opening day parades sees thousands of players march through Park Slope to the Long Meadow fields. In 1999, members of the old Dodger Sym-Phony serenaded the ballplayers as they entered the park.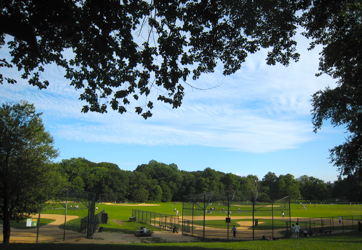 Long Meadow Ballfields in present day Prospect Park
Overhead photo from Google Maps



Ice base ball rose to popularity in Brooklyn during the 1860s, as base ball clubs exercised more and more territorial control over their playing fields, many of which were traditionally flooded for skating in winter. In the 1870s, the fad had spread to Prospect Park Lake.

The Wynona Club of Flatbush announced in 1873 that they stood ready for matches of base ball on skates at Prospect Park. By January, 1879, the Eagle was reporting that the "large lake is the scene of base ball every afternoon now." In February of that year, in the "best game of base ball on the ice this season," Smith's nine defeated Barnie's nine, 11 to 7, with Mr. Chadwick umpiring. In a change from the usual summer game, four sided bats were used, "and the result was a very quick game."

The Brooklyn Eagle of January 20, 1883, reported that a base ball match on skates would take place in front of the Well House, with teams to be chosen at 2pm by Messrs. Chadwick and Barnie. Unfortunately, a storm prevented play, but four days later Nelson's Side defeated Barnie's Side by a score of 26 to 13, as the indefatigable Chadwick again umpired. Nelson, who played for the Metropolitans of the American Association, tended shortstop for his own team and scored 5 runs. Due to the short notice of the game, only eight played on each side instead of the ten then in vogue for ice base ball.

Later in 1883, Brooklyn's chief engineer issued his parks report, which stated that "large areas of the lake were frequently used in Winter for foot ball and base ball, the players being on skates, principally participated in by the pupils of the Polytechnic, Adelphi and other educational institutions of the city."

The Eagle was still advertising for players to take part in matches on the Prospect Park Lake as late as 1887.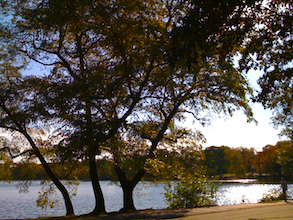 Prospect Park Lake from overhead, Wallace G. Levison's 1888 photograph for
Life Magazine of skaters on the lake - with his mother in a special chair on skates,
and a view of the lake as seen from in front of the Well House in 2010
Overhead photo from Google Maps
---
East Side Lands
Flatbush and Washington Avenues, either side of Eastern Parkway.

This large expanse of land was originally acquired by the city with the intention of incorporating it into Prospect Park, but on the advice of Calvert Vaux this plan was abandoned. Nowadays, it houses the Brooklyn Public Library, the Brooklyn Museum, and the Brooklyn Botanic Gardens.

Although Sunday base ball was generally frowned upon in 1885, it found a happy home among the youth of Brooklyn at the East Side Lands. In August, a Brooklyn Eagle reporter spent some time there: A dozen or more regular games are running all the time. The youthful players are of all ages, from 6 to 16, and of all sizes and colors. The finest of the five diamonds was said to be the one next to the Brooklyn, Flatbush, and Coney Island Railroad - the forerunner of today's B and Q subway lines. The reporter's pick of the best matches was that between the Young Cassidys and the Young Cantons. The Cantons, having made the journey from East New York, took the game in ten innings, by a score of 11 to 10. The general atmosphere and feeling was summed up:

These amateur games of base ball as well as games of foot ball are carried on every Sunday afternoon, and may be witnessed by any one who sees fit to visit the grounds. There is no police interference whatsoever, the authorities no doubt believing that the boys and young men are better off there playing ball than they would be if driven off and made to seek amusement in other directions, and that they do less mischief there than if allowed to lounge about saloons in the city.





The view north from Prospect Reservoir, circa 1900, showing a latter day East Side Lands diamond
From the collection of the Museum of the City of New York
---
Dyker Beach Park Ballfields
14th Avenue and 86th Street.

Dyker Beach Park was assembled by the city in eight separate land purchases, between 1895 and 1934. By the mid 1940s, ballfields were in place along with the more famous golf course. The fields are set aside for public use. In 1995, $607,000 was allocated for renewal of the diamonds. The site now contains three natural fields, two of artificial turf, and one of concrete. The Coney Island Sports League, where Milt Laurie coached a young Sandy Koufax during his sandlot career, played games at Dyker Beach Park in the 1940s and 1950s, as did the Home Talk League in the 1930s.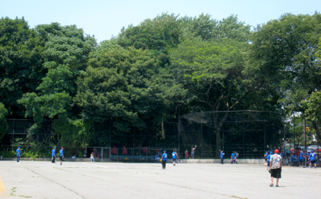 The ballfields at Dyker Beach Park, 2006 and 2009
Overhead photo taken from Google Maps
---
Ben Vitale Ballfields
Bay 8th Street and Cropsey Avenue.

These fields are named for Ben Vitale, longtime football coach of New Utrecht High School, which plays its home baseball games here. Previously the lot was known as Bay 8th Street Field, and hosted playoff games between the winners of the various Brooklyn amateur leagues, in the All-Brooklyn Amateur Baseball Association tournament. Concrete bleachers, in an art deco style, date to the era of W.P.A. works of the 1930s. The Kiwanis Baseball League, which has been a fixture of Brooklyn baseball since the 1940s, is still active at the Ben Vitale Fields.





Ben Vitale Ballfields in 1951 and 2006
Photos taken from NYCityMap and Google Maps



In a Catholic Youth Organization game on May 15, 1947, Edward McDonald of St. Thomas Aquinas, 4th Avenue no-hit the St. Francis de Chantal team in a 6 to 0 victory at Bay 8th Street Fields. The feat was repeated by Phil Centineo of St. Finbar's, who defeated St. Brendan's 4 to 0 on July 22, 1951.

The southwestern part of the Bay 8th Street Fields was given to Fort Hamilton around 1960, but as of 2010 is now a ballfield again, having become the Fort Hamilton Sports and Activity Field.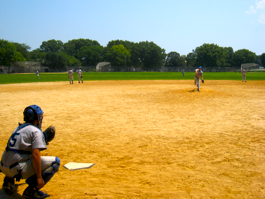 1953 sandlot playoff action, Cadets vs Guadalupe in the Kiwanis League in 2009
---
Lincoln Terrace Park
East New York and Rochester Avenues.

Land for this park was first purchased by the city around 1896, and extensions made around 1916 and 1930. The ballfields, originally intended for softball, were built in 1939 by the W.P.A. and the Parks Department. The main field is tucked into the southernmost corner of the busy park, and has several distinct features. Ivy grows on the chain link outfield fence beneath the trees, painted owls decorate the poles of the cage at home plate, and a warning track has been created by locals walking laps around the field for exercise.

The high school teams of EBC/Bushwick and Paul Robeson play at Lincoln Terrace Park. The EBC/Bushwick Panthers went 12-4 in a successful 2006 season, including a 23-2 home win over All City Leadership Academy, scoring 12 in the first and 10 in the second. Wilmer Ramirez was 3 for 3, scoring 3 runs and batting in 3. His position? Third base.





Lincoln Terrace Park's distinctively shaped ballfields
Overhead photo taken from Google Maps
---
Sunset Park Oval
41st Street and 7th Avenue.

Sunset Park, the second highest point in Brooklyn, is the highlight of the neighborhood of the same name, offering perhaps the best view in New York, looking west over New York harbor. Land for the park was acquired through the 1890s. Prior to a major Robert Moses era renovation in 1936, part of the park on the flatter eastern side was designated Sunset Park Oval and hosted team sports, including baseball. From 1895 till 1905 the park even housed a six hole golf course, which was eventually dismantled as the surrounding area was too heavily used for this to be safe.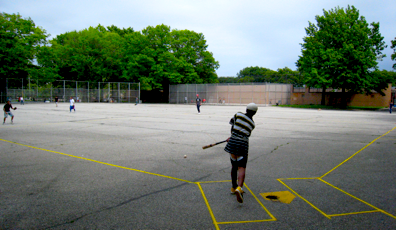 Infield practice at Sunset Park in 2009, the newly resurfaced field in 2013



On April 15, 1932, Fred Martin of the Park Aces held the Fortway Cubs to just two hits in a 3-1 victory at Sunset Park Oval. The ground also hosted Playground League matches in 1933. The Sunset Park Oval label is still applied today, to the dog play area at 6th Avenue and 44th Street. There is still a ballfield, too - next to the basketball courts. The present day field was converted from asphalt to artificial grass as part of a $4.4 million dollar project in 2013.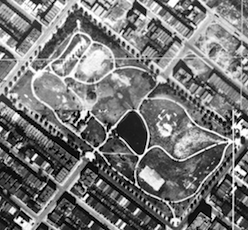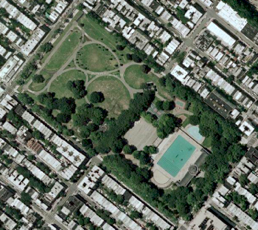 Sunset Park in 1924 (with diamonds visible) and 2009
Photos taken from NYCityMap and Google Maps
---
Betsy Head Playground
Strauss Street and Dumont Avenue.

Also known as Brownsville Playground (I). Ground was broken on Brownsville's Betsy Head Playground in 1914, and the facility was completed in 1915 with $250,000 from the local community and $190,000 from the estate of philanthropist Betsy Head. The playground saw action immediately as a venue for the Brooklyn Eagle's Junior Eagle League, and has remained a busy field ever since. When Willie Randolph was appointed Mets manager in 2004, much was made of his local credentials, having learned to play the game on the Betsy Head fields.





Betsy Head Playground in 2009 - Assassins vs Liberty Knights at softball cricket



Although the original playground had a single field surrounded by bleachers, today the Betsy Head Playground is home to two overlapping regulation sized baseball fields. They serve as public and little league fields, and have filled in for occasional high school matches in the last decade, most recently as a home field for Erasmus Hall Campus. On April 28, 2009, visiting Tilden High defeated Erasmus Hall 13 to 12, in a bizarre game which featured 34 strikeouts and 16 walks, but only 10 hits. The field is also a venue for the New York Softball Cricket League.





Betsy Head Playground's original 1914 plans,
and the field as seen from overhead in 2006
Overhead picture taken from Google Maps
---
McCarren Park
Bedford Avenue and Lorimer Street.

Home to all kinds of amateur baseball and softball, this large public park has been a fixture in Brooklyn since 1905. It was named in 1909 after Patrick Henry McCarren. Originally more oriented towards baseball, by 1914 the park featured 12 regulation diamonds. Now it has just three, but also features a running track, soccer pitch, tennis courts, and a swimming pool. The pool was defunct and hosted summer concerts for many years, but is now being renovated to once again serve for swimming. In the 1920s the McCarren Nine represented the park in amateur games.

On May 9, 1951, Bishop Loughlin Memorial High unveiled a new pitcher, Billy Johnson, for the game against Holy Trinity at McCarren Park. In his first Catholic High School Association start, Johnson no-hit Trinity with his "baffling curve ball and dandy change of pace" as his team rapped out 20 hits to win 16 to 1.

High school matches remain a regular event. Automotive High School and Harry Van Arsdale Campus call McCarren Park home now. On May 15, 2009, Harry Van Arsdale Campus and Cobble Hill School played an epic double header at McCarren Park. Van Arsdale took the opener, 6 to 5, but Cobble Hill rallied for a 12 to 11 win in the second game. Cobble Hill's catcher, Anthony Rodriguez, batted in 7 runs for the day.





McCarren Park and its baseball diamonds
Overhead picture taken from Google Maps
---
The Dust Bowl
65th and 66th Streets, west of 8th Avenue.

Also known as Leif Ericson Field. For many years, this legendary field survived without a single blade of grass, proudly bearing a Parks Department sign proclaiming its Dust Bowl name and giving rich testament to the term "sandlot baseball." In July, 2009, however, the Dust Bowl sign was ceremonially buried by assorted dignitaries and little leaguers, and the field was closed for a $2.8 million renovation. It will be reopened in 2010 with an artifical grass surface and vastly improved facilities. The field will retain both diamonds and also have markings for soccer. Care is being taken to preserve the colony of monk parrots which live in nests on the Dust Bowl's light towers.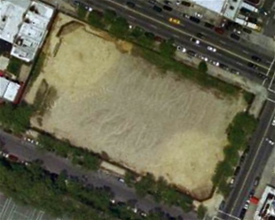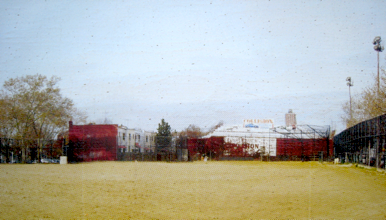 The Dust Bowl, before renovation
Overhead picture taken from Google Maps
Sandlot picture photographed from renovation signage


The Dust Bowl, during and after renovation
---
Verrazano Narrows Recreation Complex
South of Shore Parkway and Bay 44th Street.

This is part of Calvert Vaux Park, previously known as Dreier Offerman Park. This public park features three fields- two for softball or junior ball, and one regulation baseball field. The baseball field was one of the final homes- along with Keyspan Park and Staten Island's Richmond County Park- of St. Francis College of the Northeast Conference, before the school dropped its baseball and softball programs in 2006. The Terriers won their last game at the Narrows Complex, 5 to 3 over Wagner on May 7. This was a rare highlight in a 6-39 season. The Gowanus Heights Softball League also plays games at the complex.

Calvert Vaux Park was closed in 2009 for renovations, which will see new artificial turf soccer fields laid. The baseball and softball fields will remain intact.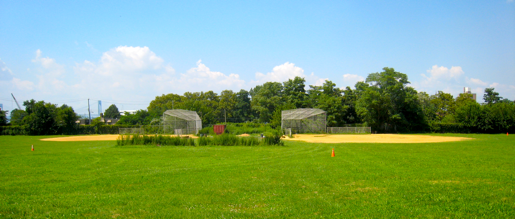 Narrows Complex ballfields at Calvert Vaux Park
Overhead photo taken from Google Maps
---
Six Diamonds
West 22nd Street and Bay 52nd Street.

Use of this area for baseball dates to 1942, and it stands not far south of the Narrows Complex. Land was added to the park in 1964, and in 1995 a renewal project saw the removal of 80 abandoned cars from this area and neighboring Calvert Vaux Park. In 1985 the name was changed from Coney Island Creek Boat Basin and Recreation Area (Coney Island Creek Field, for short) to Four Diamonds, but in 1999 two extra fields were added and the park became Six Diamonds. Several local schools play home games at Six Diamonds, as do various amateur baseball and softball leagues. The MSBL (Men's Senior Baseball League) Brooklyn Dodgers played at Six Diamonds in 2005 and won the Central Division.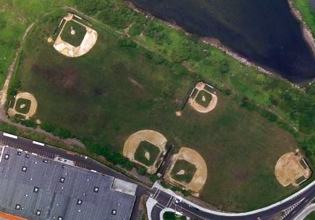 Coney Island Creek Field in 1951, Six Diamonds (count them) in 2006,
the 2005 MSBL Brooklyn Dodgers, Six Diamonds in 2009
Overhead photos taken from NYCityMap and Google Maps, Dodgers photo courtesy "Doc" Calamaria
---
Kaiser Park
Neptune Avenue and West 28th Street.

Also known as Kaiser Field, Kaiser Playground, and Neptune Playground. The city acquired this land between 1934 and 1937, creating a park named Coney Island Lots. In 1951, it was renamed Leon Kaiser Park in honor of a long serving local teacher. This waterfront park, right across Coney Island Creek from Six Diamonds, boasted four fields, renovated in 1994. Unfortunately that was reduced to two when the park was renovated again around 2008, although the revived football field and track are spectacular.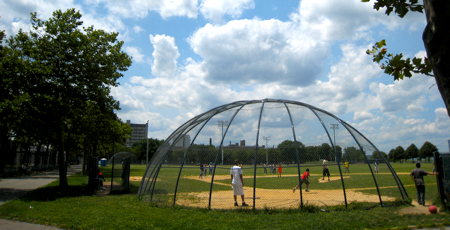 Views of Kaiser Park in 2009



Both MSBL and NYCMBL (New York City Metro Baseball League) teams currently call Kaiser Park home, as did some teams of the Coney Island League in the 1940s and 50s. William E. Grady High School also plays some home games there, notably a bizarre 22-16 loss to Sheepshead Bay in April, 2006. Kaiser Park features facilities for handball, basketball, and tennis as well as baseball. It is also one of only three parks in Brooklyn where barbecues are allowed.





Kaiser Park, now missing two ballfields after renovation
Pictures taken from Google Maps
---
Blake-Euclid Field
Blake and Euclid Avenues.

Also known as Blake and Euclid Field, Cypress Hills Houses Park, Cypress Hills Playground, and Euclid Field. This park dates to 1935, when it was variously referred to as Euclid Field or Blake-Euclid Field. The Cypress Hills Houses were built during 1954 and 1955, surrounding the park on three sides. The fields were renamed Cypress Hill Houses Park in 1958. This park is home to such teams as the Black Sox of the Mayfield Softball League. Previously, the larger park was home to a regular amateur league featuring such teams as the Pirates, Ravens, and Nomads. The W.P.A. era concrete bleachers at the northwest corner of the park still survive.





Cypress Hill Playground



Blake and Euclid Field was also home to East New York Vocational High School from 1941 through 1954. On May 28, 1947, left hander Pete Wasiluk, of Automotive High School, pitched a no-hitter here to defeat East New York 4 to 0. On that same day, two other high school no-hitters were pitched in Brooklyn, both at the Parade Ground. On May 25, 1954, East New York's Mike Kuilan, who had pitched a one-hitter four weeks earlier, tossed a perfect game, defeating Westinghouse 1 to 0 and striking out 13. This was Kuilan's fifth 1-0 win in his high school career.





Blake-Euclid Field in 1951 and 2006, the second place 1951 Nomads at Blake-Euclid Field
Overhead pictures from NYCityMap and Google Maps
---
Shore Road Field
74th and 79th Streets, Shore Road, Shore Parkway.

This group of three ballfields within 58 acre Shore Road Park is home to Xaverian High School's baseball team, as well as St. Ephrems Baseball and Softball League, and games of the Brooklyn Meadows Softball League. Xaverian's most famous baseball player is longtime Giants and Reds shortstop Rich Aurilia, of the class of 1989. In 2003 a local stir was caused by Xaverian fencing off the main field, largely because of the incorrect perception that it would no longer be available for public use.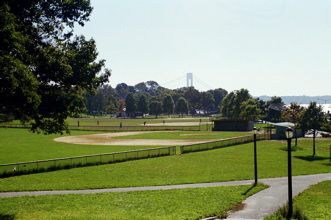 Shore Road Field, three fields in one: 1951 and 2006
Overhead photos taken from Google Maps and NYCityMap, lower view courtesy Fahmida Y. Rashid
---
Andrew Lehman Ballfields
94th Street, 4th Avenue, Shore Road, Shore Parkway.

Further south along shore road are the Andrew Lehman Ballfields, with four diamonds hosting games of the junior Prospect Park Baseball Association, and other leagues. The individual fields have variously been dubbed with their own names, at times: Cubs Field (aka Shore Road Oval), home of the powerful Bay Ridge Cubs amateur squad of the 1930s and 1940s, was within this park at the 100th Street end, while Hopeless Field (of the Hopeless Club) was at 95th Street, and, unsurprisingly, the 97th Street Oval was the one at 97th Street. The Home Talk League, organized by the Brooklyn Eagle, played games here in the 1930s.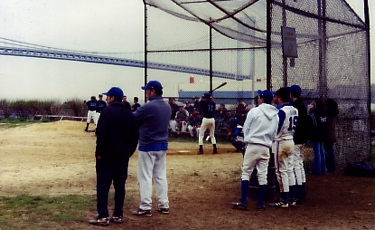 Views of Lehman Fields
Action shot courtesy Paul Fox



The Lehman Ballfields reside in as beautiful a setting as any fields we have visited. There are tall shady trees, a stone field house, the Verazzano Bridge stretching out over the Narrows, and a winding path up to street level which affords fantastic views of the whole scene.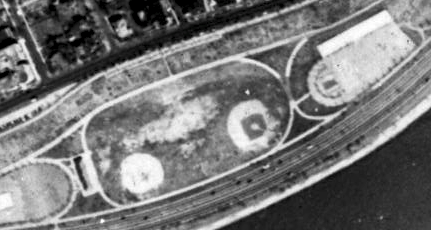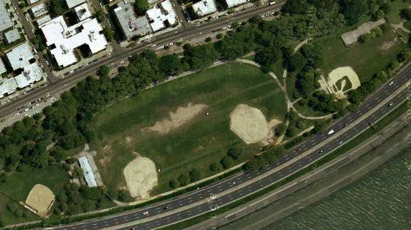 Andrew Lehman Fields, 1951 and 2006
Overhead photo taken from Google Maps
---
Breukelen Playground
Flatlands, Williams, Cozine and Louisiana Avenues.

Also known as Five Diamonds, Breukelen Playground is home to the Latin Souls Baseball Organization, offering games for ages 5 to 16 since 1973. The fields are also available for public use, and are home to EBC/ENY High School's baseball team, the Eagles. The fields are distingushed by silhouettes of famous stadia, past and present. The diamonds were upgraded between 2001 and 2003 at a cost of just over $1 million.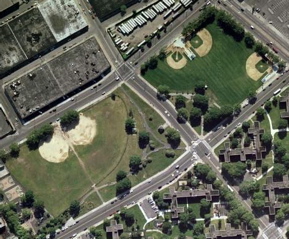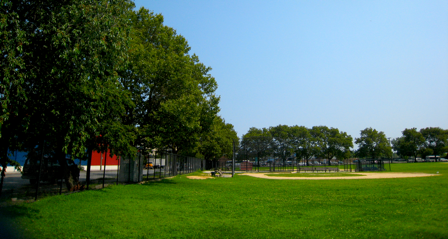 The five diamonds of Breukelen Playground
Overhead picture taken from Google Maps
---
Floyd Bennett Field
The far southeast end of Flatbush Avenue.

Floyd Bennett Field is in a category all its own. Over several decades, this site graduated from a single dirt runway to a major airport, before it was squeezed out of the aviation scene in the 1960s and passed to the National Park Service in 1971. Its place in aviation history is secure - perhaps most notoriously as the place where "Wrong Way" Corrigan took off to cross the Atlantic when his permit allowed for a flight to California.

In the early hours of May 9, 1940, the Dodgers flew home from a long western road trip as league leaders, with Tex Carleton having pitched a no-hitter against the Reds on April 30. 50,000 fans crammed onto Floyd Bennett Field to welcome their heroes, and Tex rewarded them with a short speech: I must be lucky.





NYC Metro Baseball League: Williamsburg Warriors vs NY Skyline at Freedom Field, 2010



Today, the wide spaces and large buildings of Floyd Bennett Field allow for all sorts of sporting activities. The minor league New York Aviators (formerly Brooklyn Aces) hockey team, the New York Sharks women's football team, NYU Poly (formerly Poly Tech) baseball and softball, and the NYPD's Finest baseball team all call Floyd Bennett Field home. On the right day you can find Australian football, cricket, basketball, or almost any sport here.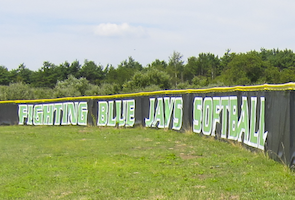 Floyd Bennett Field's softball field, home of NYU Poly's Fighting Blue Jays
Overhead picture taken from Google Maps



The Finest team has rehabilitated the baseball field here in recent years and turned it into one of the best kept in Brooklyn, christening the diamond Freedom Field. The inscription on the sign reads: This field is dedicated to men and women of law enforcement and armed forces who put their lives on the line to protect our freedom. While serving with honor, dedication and pride we honor those who have made the ultimate sacrifice in the line of duty. Their selflessness and bravery can be matched by no other and for this we dedicate "Freedom Field" to these amazing individuals.

While NYU Poly's baseball team suffered through a 5-23 season in 2011, the home highlight was a doubleheader sweep of Maritime on March 27, 10-7 and 15-14. The softball team fared better, going 23-15 overall, and 11-3 for third place in the Skyline Conference, with a dominant 8-1 record at Floyd Bennett Field.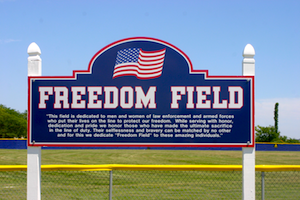 Gigantic Floyd Bennett Field, and a closeup of the baseball field
Overhead pictures taken from Google Maps,
ground level pictures courtesy NY Finest Baseball Club
---
McGuire Fields
Bergen Avenue, Avenue V, Avenue X.

McGuire Park is a huge 77 acre reserve with all kinds of recreational and wildlife areas. The ballfields were originally the vision of former major leager John Malone in the 1970s, and were renovated in 2002 at a cost of $5.7 million. There are now fully enclosed dugouts, electronic scoreboards, and portable pitching mounds to enable players of all ages to play on appropriate diamonds. John Malone Sports Center, on the same complex, is decorated with bas relief baseball figures.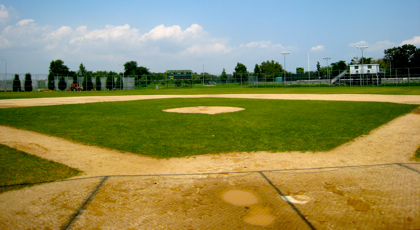 McGuire Fields in Bergen Beach
Overhead photo taken from Google Maps
---
Canarsie Park
Seaview and Skidmore Avenues, East 93rd Street.

Canarsie Park, also known as Seaview Park and Canarsie Beach Park, dates to 1895, with various land purchases increasing its size through to the 1950s. The ballfields overlap heavily, but it would still be possible to play as many as nine games of baseball or softball, and three of cricket, all at the same time. Teams of the 69th Precinct leagues play at Canarsie Park, as do Saint Edmund's and Canarsie High School baseball teams. Canarsie High did produce a major leaguer- Dan Morogiello, who pitched for the World Series winning 1983 Orioles, although a far more famous alumnus is Kiss drummer Peter Criss.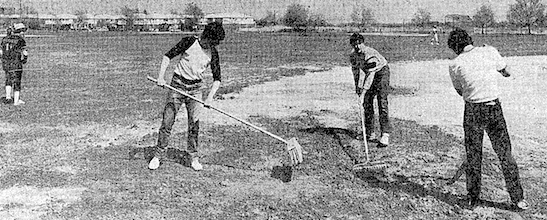 Canarsie High ballplayers clean up a diamond in 1978



In 1978, the community in Canarsie was aggrieved at the lack of attention paid to Canarsie Park, with its existing diamonds in poor shape even as the city planned new work at Monroe Cohen Park. The New York Times reported:

In Canarsie Park, there is a diamond that Ricky Taldi, Canarsie High's varsity left fielder, says would be the finest in Brooklyn, if it weren't for the mud wallow behond third base and the spring crop of rocks in the outfield. The Canarsie High School baseball teams volunteered that the infield was rocky and needed clay, and said some teammates had injured ankles sliding into home. Joey Auci, a junior-varsity player, said he had to watch his step to keep from tripping over motorcycle tracks in left field. Ricky Taldi said he could remember the old days when they used to chalk the baselines. "Now we have to rake the mud ourselves after the storm," he said.

As a result, attention was focused on the area of most need, and Monroe Cohen Park's major work waited almost 20 years.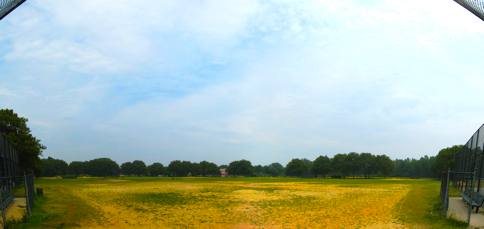 The many fields of Canarsie Park
Overhead photo taken from Google Maps
---
Monroe Cohen Park
East 108th Street and Seaview Avenue.

Also known as American Legion Park. This park was officially established in 1975, and named for late Canarsie council member Monroe Cohen. Prior to that, the large vacant lot was home to two backstops, but stood in a state of some disrepair. The city began work in 1975, but the fiscal crisis of that era quickly put an end to any progress. Even in 1978, the modern configuration of four main diamonds was a distant dream, and the New York Times reported: The infield shows signs of heavy use, though not by ballplayers. It is littered with weeds, rusty automobile parts and other urban flotsam and jetsam.

It was not until the mid 1990s that the park began to really take shape, with work finally beginning on four large back-to-back baseball diamonds, two smaller diamonds, and a pair of cricket fields. Nowadays, finally, Monroe Cohen Park hosts games of the 69th Precinct junior leagues, some games of Xaverian High School, and also cricket, soccer, and football- the Brooklyn Renegades youth team, in particular.

Monroe Cohen Park is, according to the city, part of Canarsie Park, but we have treated it separately because of the nine block gap between the two.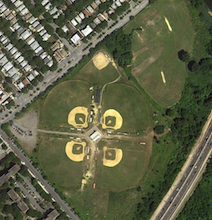 The diamonds of Monroe Cohen Park in progress in 1996,
and lushly green in 2011, and Stars vs Bulldogs in 2009
Overhead pictures taken from NYCityMap and Google Maps
---
BrooklynBallParks.com is brought to you by
Andrew Ross (wonders@brooklynballparks.com)
and David Dyte (tiptops@brooklynballparks.com).
Please contact us with any corrections, additions, or requests.