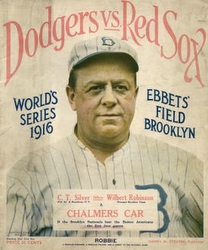 Team-Up Special
On June 1, 2006, the staff of BrooklynBallParks.com (well, David. Andrew had to work) was pleased to welcome Paul Healey of Project Ballpark after his long journey from Boston, and take another trip around the Brooklyn-Queens border region to take photos of places where baseball used to be.

First we headed back to the Union Grounds. Paul had gotten that one a little wrong his last time in Brooklyn, but we fixed the error. In case you've forgotten, there's a very attractive armory there now, and a school too.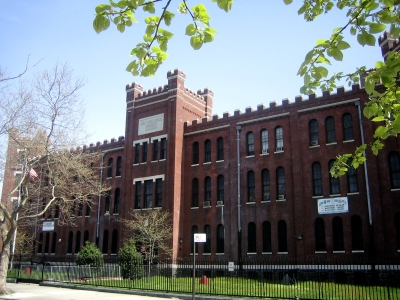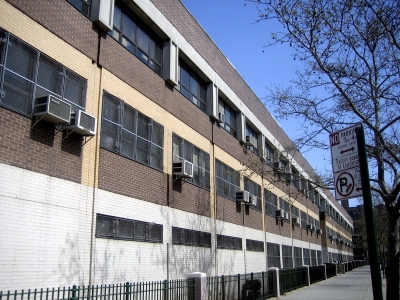 Next on the list was Dexter Park, home of the Bushwicks and Royal Giants. This wonderful venue has now become a small row of houses, a CTOWN supermarket, and a rather ugly parking lot. It does, however, have one advantage over virtually every other park* we have seen: a historical sign so you know something was once there.

* JJ Byrne Park has an in depth historical sign for the Old Stone House which very briefly mentions its use as a Dodger clubhouse.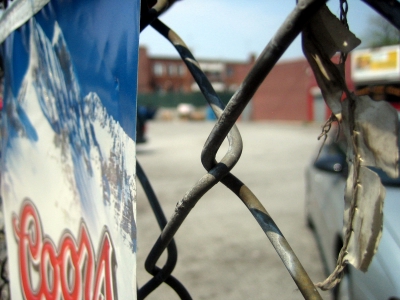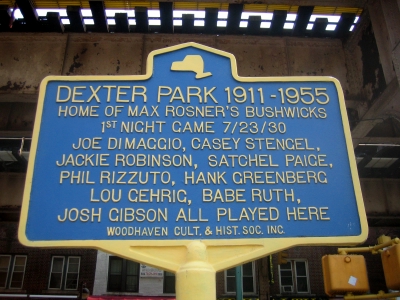 After that, came the long journey to deepest industrial Maspeth to find the Long Island Grounds. This one has been something of a holy grail for ballpark nuts- we discovered its precise location only very recently. Although only two major league games were played there, there was some amount of Negro League baseball, and it's just as well to get these things complete. It's now a warehouse or two, and pretty ugly. It does, however, have a flag. And allowed further indulgence of someone's obvious bad habit of taking macro photographs of fences.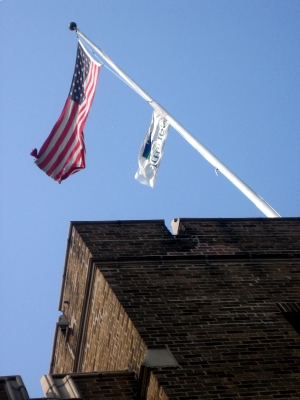 Just across the street is Feldman's Park, previously known as the Queens County Grounds. This is important for two reasons: first, it helped us find the Long Island Grounds, and second, it turns out to have hosted two minor league games featuring the last, sad gasp of the Brooklyn Atlantics in 1884. Now there's a Subway and Grand Basket, whatever that is. Coincidentally, the towers in the background stand on an oddly ballpark shaped space. The photo shown of that here is from Google Maps.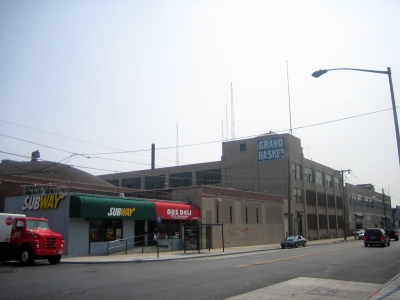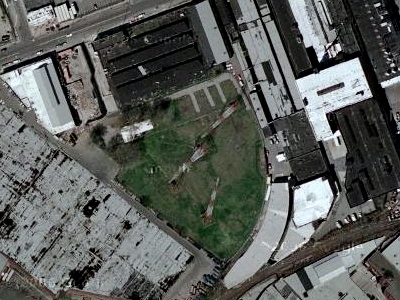 Finally, we went to Ridgewood. There, though, we had three ballparks to photograph. The first was Wallace's Ridgewood Grounds, Sunday home of the Dodgers-to-be from 1887 to 1889, and full time home of the Gladiators in 1890, among other teams. Now there are various warehouses, a beer distributor, and a boarded up shop where the entrance used to be.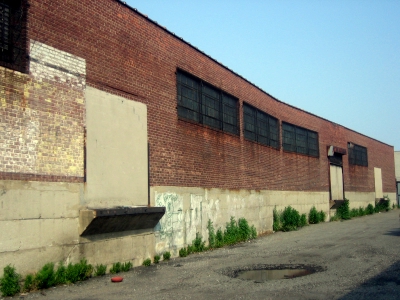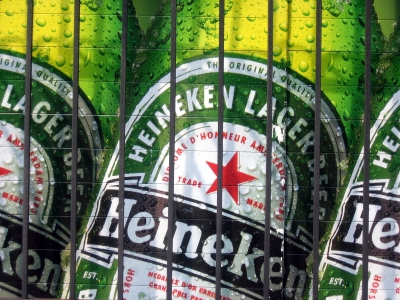 Next was Meyerrose Park. This smallish triangle was home of Ambrose Hussey's Ridgewood semipro squad until it was demolished after the 1911 season. His rebel league Brooklyn franchise also played there. Now there is pretty housing and a funeral home, and shops along the Myrtle Avenue side. NOTE: we had this location completely wrong. The correct version, and a photo to match, is shown on the Parks of Ridgewood page.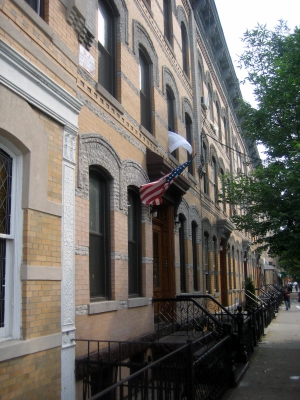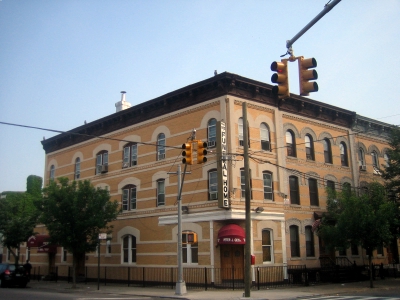 Finally, at long last, the first Ridgewood Park. This one is a little unclear. Somewhere in the picnic grounds was a ballpark. Here's a photo of Seneca and Myrtle now, looking along Seneca at the right. Imagine, then, a time when Seneca didn't exist, and you could look past that hotel to see picnic grounds and a ballpark beyond. This was the Sunday home of the Dodgers-to-be in 1886.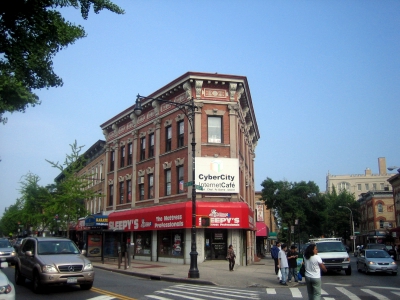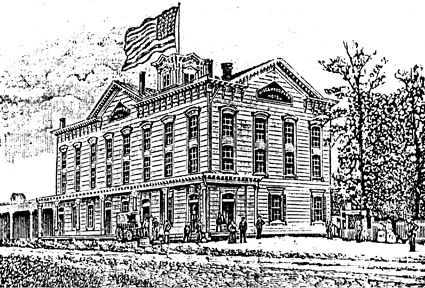 And that was that. We look forward to hosting Paul again for a wander round the sites of South Brooklyn. In the meantime, check out his exhaustive page. It's well worth a look.


---
BrooklynBallParks.com is brought to you by
Andrew Ross (wonders@brooklynballparks.com)
and David Dyte (tiptops@brooklynballparks.com).
Please contact us with any corrections, additions, or requests.