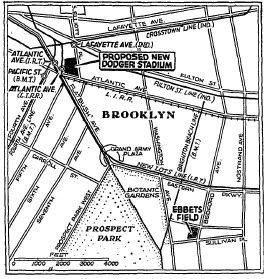 Ballparks That Never Were
Dodger Stadium, Brooklyn
In the early 1950s, a plan was floated by Walter O'Malley which called for the first indoor baseball stadium in the major leagues, which would cost $6 million, seat 52,000 spectators, house a convention center, and be home to all kinds of sports year round. Rolf Klep's impression of a conceptual design by Norman Bel Geddes, from Collier's magazine of September 27, 1952, looks like something from Disney World's Epcot Center. It includes such features as a uniform outfield wall distance of 380 feet, a movie theatre, a shopping arcade, and gate attendants being replaced by a fully automated ticketing system. This is an excellent demonstration of how drastically aesthetic ideas had changed since Ebbets Field was designed in 1912.




Collier's Magazine imagines a dome for Brooklyn



Later, an original plan suggested by famed architect R. Buckminster Fuller included a translucent dome to allow daylight in, but no actual seats. The plan was improved and fleshed out by his student, Billy Kleinsasser, and his model was exhibited at local businesses and in photo opportunities with O'Malley and New York's power brokers.

O'Malley had a series of sites examined, but his preferred location was the block north of the intersection of Atlantic and Flatbush Avenues, then the site of a meat market, now home to the Atlantic Center shopping mall. Abe Stark offered the Dodgers the Parade Ground, although it's unclear how it would have been possible for the borough to take the land from the Parks Department*, and the Coney Island Chamber of Commerce offered the former site of Luna Park, by the boardwalk. Almost a half century later, these offers would be echoed eerily with the arrival of the Cyclones.




O'Malley shows off Kleinsasser's dome model**,
the Atlantic Center mall at Atlantic and Flatbush



Despite endless reports and discussion and investigation, no plan could be worked out. It is history now that Dodger Stadium was never built in Brooklyn, and the Dodgers moved far further than a couple of miles along Flatbush Avenue.

* We realise the city handed Macombs Dam Park to the Yankees and invited them to build New Yankee Stadium there in 2008, but the difference is a very big one- Robert Moses is no longer Parks Comissioner.

** One poster on the Baseball Fever forum says of this photo: Notice how's there is a guy between Moses and O'Malley? They would have strangled each other if there wasn't. Too bad because that would have pleased an awful lot of people.


---
Dodger Stadium, Queens
Robert Moses did offer the Dodgers one site in New York City, but it was not in Brooklyn. An unregarded spot at Willets Point, Queens, had sufficient space for a stadium and an enormous amount of parking. But O'Malley was already on his way out, and to the fans in Brooklyn, a home field in Flushing may as well have been on the Moon. This same site, of course, became home to the New York Mets when Shea Stadium opened in 1964. But now Shea, too, is gone, and a little further east stands Citi Field. Its external design is striking, to say the least, for fans of the old Brooklyns. Citi Field, the ersatz Ebbets Field, is the nearest thing we will ever have to Dodger Stadium, Queens.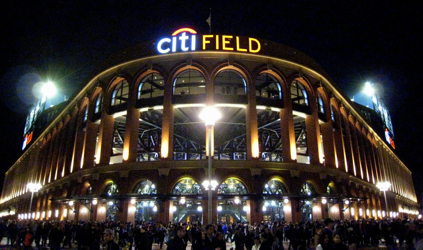 Citi Field at night



Of course, that wasn't the sort of stadium Walter O'Malley wanted. If he had agreed to go to Queens, we probably would have ended up with a domed ballpark after all, and Billy Kleinsasser would be a famous stadium architect instead of a footnote figure in baseball history. As it happens, the original Shea Stadium plan included the eventual addition of a dome, so we don't have to try too hard to imagine how this park might have looked.




Shea Stadium as it could have been
---
Ebbets Dome
In 1981, young state senator Tom Bartosiewicz began a campaign to bring baseball back to Brooklyn. He introduced legislation to create a Brooklyn Sports Authority, and give it a budget of $200,000 to explore options for building a new baseball field in Brooklyn. His plans were grand- a return of the fabled Dodgers, no less, to play in a new stadium he would dub the Ebbets Dome (he also joked with the governor that he may call it the Cuomo Dome). Based on the successful design of Syracuse University's Carrier Dome, the new dome was designed by James McCullar. Proposed locations included the corner of Atlantic and Flatbush (again) and Coney Island.

Bartosiewicz spoke with the Dodgers, who politely but firmly refused the offer. He chased other major league teams, but found no interest. He campaigned for the state to build the stadium anyway, and wait for the major leagues to expand. Finally, in 1985, he went after AAA teams in the hope of luring one to Brooklyn, but was blocked by the Mets asserting their territorial rights.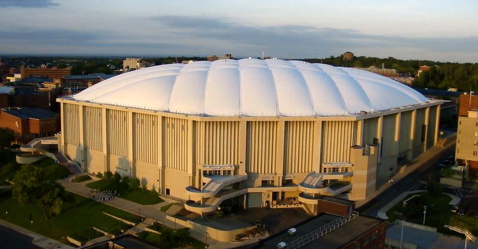 Carrier Dome at Syracuse University
Picture courtesy College Gridirons



Meantime, a rival proposal for a domed stadium had been floated for Corona Park in Queens, and debate raged in committees about which borough deserved the new facility more. In the end, neither Brooklyn nor Queens got a stadium at all.

When Bartosiewicz retired from the state senate in 1988, the New York Times noted that he wished to pursue his interest in minor league baseball. We hope that worked out.


---
Parade Ground Stadium
When the Mets were making arrangements to move their new minor league team to Brooklyn, the plans had a year or two worth of gap between moving the franchise from Ontario to New York, and the permanent stadium at Coney Island being ready. A temporary home was needed, and the Mets saw an opportunity at the aging Parade Ground. The plan called for a $6.5 million stadium with room for 4,500 fans, and a parking lot for 850 cars. The essence of the plan was that some parts of the Parade Ground would be lost completely in a trade-off for others being drastically improved, although the city, the Parks Department, and the Economic Development Corporation were all reticent to provide actual plans to anyone.

Improvement was certainly needed- the Parade Ground had fallen into disprepair and become devoid of grass in large patches. A prior $2 million city allocation for repair work seemed inadequate, but the stadium proposal came with far more financing. A sharp split occurred between interested parties- some thought the stadium plan was the only way to improve the old ground, others that improvement could and should be made without handing public land over to a private concern, and losing much of the existing space to a parking lot. The Mets attempted to compromise- reducing the stadium to a 2,500 seat facility- but opposition continued in force. The stadium idea was eventually abandoned in January 2000, as it became apparent that Brooklyn borough president Howard Golden would not drop a lawsuit against the plan, and the Mets instead moved the team to St. John's University in Queens for the season.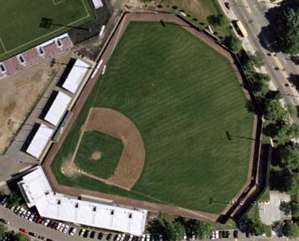 The eventual stadium at St. John's University



Subsequent attention focused on the poor state of the Parade Ground, and proper funding was at long last provided. $12 million worth of complete renovation took place between 2001 and 2004, resulting in the gem we have today.


---
BrooklynBallParks.com is brought to you by
Andrew Ross (wonders@brooklynballparks.com)
and David Dyte (tiptops@brooklynballparks.com).
Please contact us with any corrections, additions, or requests.