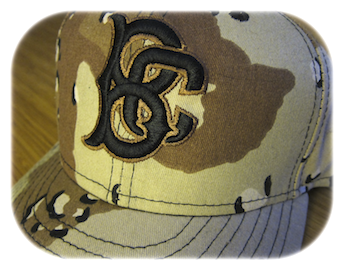 Brooklyn's Military Ball Fields
Brooklyn's military history extends back to the Revolutionary War, and the military's relationship to Brooklyn baseball is not limited to the Parade Ground. Here are some other fields which have been built and actively maintained by the Navy and Army during their time in Brooklyn.


---
Fort Hamilton Parade Ground
99th Street and Fort Hamilton Parkway.

Fort Hamilton dates back to 1831, but we date baseball here to the 1850s. Baseball, football, and polo were played on the fort's parade ground.

On April 16, 1859, the Neosho Club of New Utrecht played on their ground at Fort Hamilton - we believe this was the parade ground - and defeated the visiting Wyandank Club of Flatbush 49 to 11. Of particular interest in this game was a very early recorded example of a triple play. Two Wyandank players were not quick enough to recognize that the new rules of 1859 required them to return to their bases after the striker was caught out on the fly, and both were put out as a result of quick work by the Neosho fielders.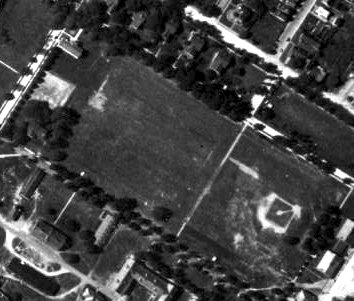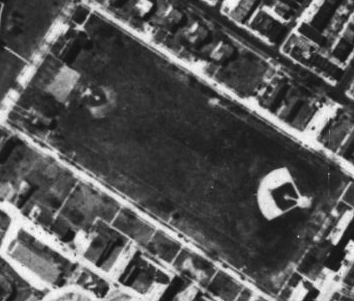 Changing formations at the Fort Hamilton Parade Ground: 1924 and 1951
Pictures from NYCityMap



In 1903, Fort Hamilton entered a team in the New York Harbor Army Athletic League. Polo was seen at the ground from around 1914, also. In the late 1930s and early 1940s, weekly night games of baseball were played, usually featuring the base's nine against local amateur or college squads. On June 5, 1938, Stumpy Stewart's RBI double with two out in the ninth gave the army nine a dramatic 4 to 3 victory over Brooklyn College. The Kingsmen turned the tables in 1939 with a 13 to 9 win, however. The parade ground disappeared under the new Verrazzano Bridge approach around 1959.






Fort Hamilton Parade Ground in 1955
Photo courtesy Harbor Defense Museum
---
Doubleday Field
Marshall Drive and Grimes Road, Fort Hamilton Army Base.

Doubleday Field was named for Abner Doubleday, the soldier who famously did not invent baseball, but was at one time the commanding officer of Fort Hamilton. The field was laid out around 1960 as a replacement for Fort Hamilton's lost parade ground, and hosted football and softball as well as baseball. Army teams were not the only ones to call Doubleday Field home. In 1998, the New York Times reported that ten baseball and soccer leagues were using Doubleday Field. The field was replaced by new housing in 2006.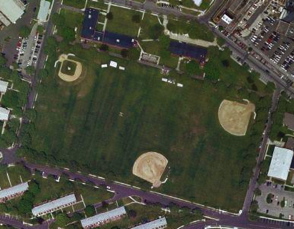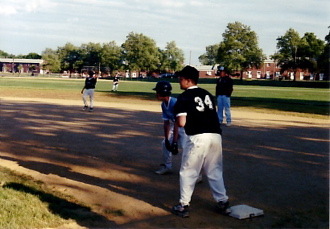 Doubleday Field, taking a lead from first base in a 68th Precinct junior game
Overhead photo taken from Google Maps, action photo courtesy Paul Fox
---
Fort Hamilton Sports and Activity Field
Within Pershing Loop, Fort Hamilton Army Base.

The Hamilton Connection of June 12, 2008 reported that ground had been broken on a new field to replace Doubleday Field, able to accommodate adult and little league baseball diamonds, and a further area for football or soccer. Fort Hamilton Sports and Activity Field, completed in 2010, features two diamonds and superb views of the New York Harbor. The field is on ground which formed part of the Ben Vitale Fields prior to about 1960, but is now separated by a chain link and razor wire fence. While Doubleday Field was once a resource for everyone in the local neighborhood, Fort Hamilton Sports and Activity Field is unlikely to fill that function, as the security climate around the Army base has changed dramatically since 2001.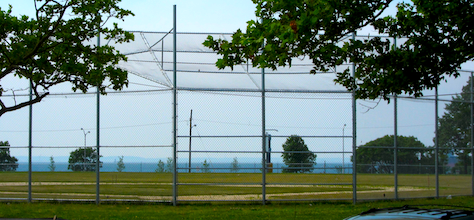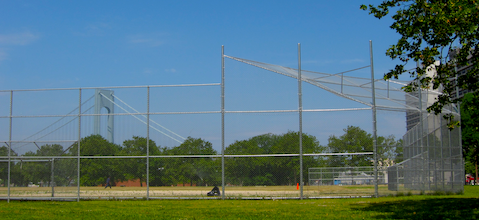 The two diamonds of Fort Hamilton Sports and Activity Field, 2010
Overhead photo taken from Google Maps
---
Marine Barracks Grounds
Navy Yard, Flushing Avenue.

Beginning in 1883, on a space normally used for their parades, a Marine nine would take on all comers, mostly other military teams, and usually win. On July 19, 1886, the Marines defeated the powerful Glendale nine, 18 to 4. These baseball matches were said by the Brooklyn Eagle to have brightened the neighborhood considerably.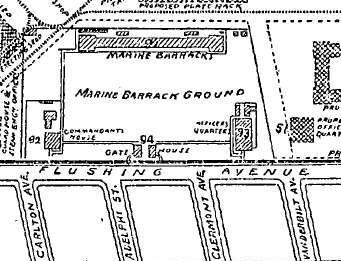 Games against outside nines continued for some years, and the yard remained open for all-military matches, too, as well as local junior games. When the nine from the Battleship Iowa defeated that of the Pennsylvania in 1906, thus taking the championship of the Atlantic Fleet, all three balconies of the barracks, and the whole of the field, were ringed with spectators.

The Barracks Grounds were built over by the mid 1920s, when athletic activity at the Navy Yard had moved elsewhere.






Sailors play ball at the yard in 1906
---
Navy Yard Athletic Field
Navy Yard, Cob Dock.

In 1909, a new field was built on Cob Dock, with a baseball diamond, a gridiron for football, and a 220 yard cinder running track. The track was later converted to a quarter mile. The new field replaced a feature known as the Junk Pile, and was opened with a football game between the sailors of the Receiving Ship Hancock and the Flagship Connecticut. Hancock won, 14 to 0. The Tribune commented: The new field will be a formidable rival in attractiveness to the big lawn in front of the marine barracks in Flushing avenue.







In 1913, tennis courts were added to the setup. Soon, however, the field was covered by manufacturing activity, being used for making submarines in 1917, and more building works eventually took over Cob Dock. We do not believe the space ever reopened as an athletic field, although new tennis courts were built in the southwest corner of the Navy Yard some years later.

The Navy Yard was closed in 1966, and reopened, in part, as an industrial park in 1971. Restoration efforts for the old buildings have been erratic at best, and there seems no hope of getting back the Brooklyn Navy Yard's once popular ballfields.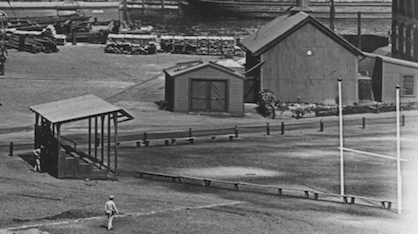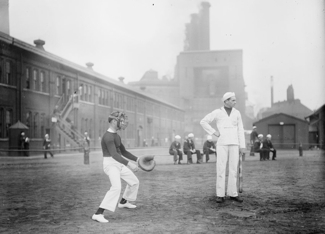 Navy Yard Athletic Field in 1913 and 1914
---
BrooklynBallParks.com is brought to you by
Andrew Ross (wonders@brooklynballparks.com)
and David Dyte (tiptops@brooklynballparks.com).
Please contact us with any corrections, additions, or requests.