Washington Park Dedicated
By Squire Ebbets and the
Superbas as Public Field
Brooklyn Eagle, October 5, 1923

For probably the last time in history, the crack of a bat as a big league player meets the horsehide echoed yesterday over the site of historic Washington Park, where 40 years ago major league baseball first gained a foothold in the boro. Back on the old grounds, the Brooklyn Superbas defeated the Milford Red Sox 13 to 2 in a seven-inning exhibition game, the proceeds of which are to go to a fund for the proposed park, playground, stadium, and memorial to be erected there. The spectacle of seeing the Superbas play sand lot baseball brought out a crowd of 12,000 spectators who thronged the wooden stands and overrunning the field, made ground rules necessary.

Besides the main attraction, the customary speeches, band playing and flag-raising played a prominent part in the ceremony. C. Holliday Ebbets, president of the Brooklyn Club, rose to the occasion in eloquent style and made an appropriate address expressing his approval of converting the old ball field, which is also part of the historic field of the battle of Long Island, into a public field.

After his speech, with the band playing the "Star-Spangled Banner," the Squire of Flatbush raised a large American flag, which he presented on behalf of the team, to the Memorial Committee. Other speakers on the program were William J. Dilthey, the chairman of the Public Forum of Brooklyn Heights and architect of the proposed stadium, and Alderman Finn of the 12th Assembly District.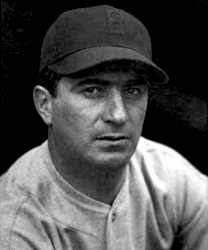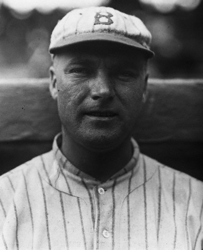 Jack Fournier, Moe Berg, Tommy Griffith
Fournier photo: SDN-065497, Chicago Daily News negatives collection, Chicago Historical Society.
Not Much of a Game.
As a ball game the exhibition was not much. It was merely a slugging carnival for the big leaguers from the start. They literally won as they pleased since they pounded the delivery of Fusco to all corners of the field, while Paul Schrelber and Nelson Greene, the most recent acquisitions of the Superbas from the Richmond Club of the Virginia League, held the regular sand lot aggregation in check.

Only Bert Griffith failed to register at least one safe hit, but Bert batted left-handed most of the time. Moe Berg, the ex-Pricetonian, with two slashing doubles and a single in four times up, did most of the execution but his teammates were not far behind. That the ground rules seriously hampered the big leaguers is shown by the fact that ten out of the Superbas' 14 hits went into the crowd and therefore were limited to two and three base drives.

The big leaguers started their scoring in the opening frame when with one down, High beat out an infield hit and went to second when Fournier was hit by a pitched ball. Tommy Griffith sent High across the plate with the first run with his single to left. In the second, Mullen went to first on an error by Rietz, Berg singled to center and Mullen took third and Berg second on the throw in. Schreiber then hit to Jennings, who threw home too late to catch Mullen.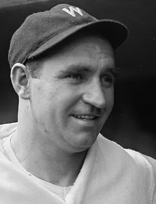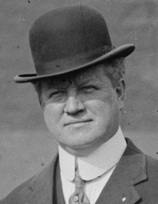 Andy High, Bert Griffith, C. Holliday Ebbets
Bert Griffith Steps Out.
Bernie Neis' single drove Berg across the plate and Andes' error on High's grounder filled the sacks. Rietz fumbled Bert Griffith's grounder and Schreiber scored and Nels crossed the pan a moment later while Fournier went out. Bert Griffith brought the rally to and end by absent-mindedly walking off third base and being tagged out.

The Superbas continued their fusillade of hitting in the next inning and drove out six lusty bingles which accounted for five runs and put the game on ice. The sole earned run for the Milford aggregation came in their half of the third when Andes hit the ball into the crowd in leftfield for three bases and scored on a sacrifice fly. The Red Sox tallied again in the fifth.

Nelson Greene made his first appearance in a Brooklyn uniform in the last four innings of the contest and while, of course, he will have to overcome sturdier opposition that he encountered yesterday, the blond southpaw from Virginia made a decided hit with the spectators in the manner in which he turned the sand-lotters back.


Just An Exhibition.
                BROOKLYN.
                   AB.  R.  H. PO.  A.  E.
Neis, c f...........5   2   2   2   0   0
High, 2b............5   2   2   1   3   0
B. Griffith, l f....4   0   0   0   0   0
Fournier, 1b........3   1   2  11   1   0
T. Griffith, r f....4   0   2   0   1   0
Hargreaves, c.......3   1   2   6   0   0
Mullen, 3b..........4   2   1   0   2   0
Berg, s s...........4   3   3   1   3   0
Schreiber, p........2   2   1   0   0   0
Greene, p...........2   0   1   0   1   0
                   --  --  --  --  --  --
Totals ............36  13  16  21  11   0

            MILFORD RED SOX.
                   AB.  R.  H. PO.  A.  E.
Duffy, c............2   0   0   2   0   0
Clarke, l f.........3   0   0   1   0   0
Rietz, s s..........3   0   1   3   3   2
Carter, r f.........3   0   0   1   1   0
Jennings, 2b........3   0   0   1   3   1
Dede, c f...........3   1   2   0   0   0
Kehoe, 1b...........3   0   0   9   0   0
Andes, 3b...........2   1   1   1   0   2
Fusco, p............1   0   0   0   2   0
Dwyer, p............0   0   0   0   0   0
                   --  --  --  --  --  --
Totals ............23   2   4  18   9   5


Milford Red Sox...0   0   1   0   1   0   0-- 2
Brooklyn..........1   4   5   0   2   1  ..--13



Errors- Rietz, 2; Jennings, Andres, 2.
Two-base hits- Berg, 2; Neis, Fournier, 2; Hargreaves, Dede, 2;
               High, T. Griffith, Greene.
Three-base hits- Andes, Mullen.
Sacrifices- Fusco.
First base on errors- Brooklyn, 5.
Stolen bases- Hargreaves, Berg.
Double plays- Fournier and High, Carter and Jennings.
Bases on Balls- Off Schreiber, 1.
Struck out- By Schreiber, 2; by Fusco, 2; by Greene, 4.
Hit by pitchers- By Fusco (Fournier).
Hits- Off Fusco, 14; off Schreiber, 1; off Dwyer, 2;
      off Greene, 3.
Umpires- Klem and Wilson.
Time of Game- 1 hour 40 minutes.

---
BrooklynBallParks.com is brought to you by
Andrew Ross (wonders@brooklynballparks.com)
and David Dyte (tiptops@brooklynballparks.com).
Please contact us with any corrections, additions, or requests.