Erasmus Field
Erasmus Field (I)
The original Erasmus Field was the playground of the Erasmus Hall school campus, on Flatbush Avenue near Church Avenue. Around 1900 it was primarily in use for track and field, but in 1894, Colonel George Oakey recalled for the Brooklyn Eagle the games of his youth at the school, which he attended from 1837:

Erasmus Hall academy had a fine play ground surrounding it. Here John Oakey and his school fellows played many a game of three base ball. The boys who played were called binders, pitchers, catchers, and outers, and in order to put a boy out it was necessary to strike him with the ball. On one occasion John Oakey threw the ball from the second base and put another boy out. The boy said he did not feel the ball and therefore he had not been put out. John made up his mind that the next time he caught that chap between the bases he would not say afterward that he did not feel the ball. It was only a few days after that an opportunity occurred. John let the ball go for all he was worth and caught his boy in the back. He went down in a heap, but instantly sprang to his feet and cried out, "It didn't hit me; it didn't hit me." But John Oakey and all the boys knew better. For a week after that boy had a lame back, but he would never acknowledge that the ball did it.

In 1899, a basket ball match was played on the field between the girls of Erasmus Hall and Manual Training. Erasmus won, 12 to 6, although to be fair, "playing on the turf was a distinct disadvantage to the visitors." The field was also used for Brooklyn Eagle track meets in the early 1900s, and as a summer playground from 1915.

In July, 1908, a Y.M.C.A. track meet was affected by heavy rain, flooding some parts of the cinder track. The Eagle reported: Naturally some were for postponing the meet, but F.H. Baker, the physical instructor, got the boys together and after a heart-to-heart talk made the boys feel ashamed of even thinking of quitting.
---
Erasmus Field (II)
Through the first quarter of the 20th century, Erasmus Hall baseball and football played a constant game of musical chairs with home fields. The school jumped from Saratoga Park to Hawthorne Field to the Parade Ground to Commercial Field to Flatbush Oval (II). After a failed attempt by alumni to purchase a lot at Avenue M and Ralph Avenue in 1916, and then another nearby in 1918, students went to work on the problem in 1921. A series of plays, bazaars, musicals and other fundraising devices saw $40,000 cobbled together to purchase a large lot adjoining Friends Field, at Gravesend Avenue and Avenue M.

The new Erasmus Field has been in use since 1923, initially for track and field and baseball, and later for football, soccer, and lacrosse. It has served all that time as one of the sporting homes to Erasmus Hall High School, and also been made available to whoever else might pay the rent. Due to work on the playing surface, later home baseball games of 1923 and all home games of 1925 were moved to Hawthorne Field and Flatbush Oval (II).





Erasmus Field (II) in 1924 and 1951 - note the large grandstand,
originally installed for the Bay Parkways semipro team
Pictures from NYCityMap



In 1925, the field was regraded and a running track added. In 1927 the collapsible stands previously in use were replaced with permanent seating for 13,000, ready for football season. Then, before the baseball season of 1928, Herman Rosner financed the construction of a wooden grand stand to seat 5,000 fans under cover, and Erasmus Field became one of the major baseball and football venues in Brooklyn. Semipro games were scheduled every Sunday, and high school championship games had a new venue of choice. Lights were installed in 1933, and a major upgrade was made in 1940. This gave Erasmus Field "one of the slickest arc-light outfits in the city," with 12 towers, increasing demand for the park still further.

The odd shape of Erasmus Field meant plenty of home runs were hit to right center, but homers to left field, over 400 feet away, were almost impossible. Negro Leaguers Josh Gibson and Fats Jenkins were among the few who managed the feat, however, along with Brooklyn Edison catcher Mike Camarata, whose grand slam over left field helped the Edisons to a 9-7 win over Pittsfield General Electric in 1931.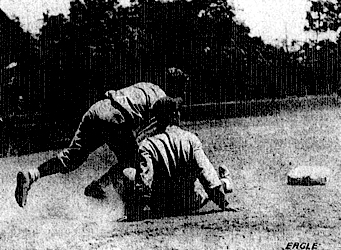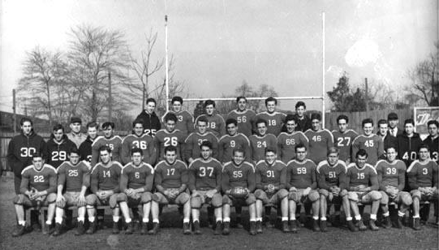 1932 - Madison High runner picked off at third by a mile,
1944 - Erasmus Hall's 8-0 P.S.A.L. Champion football team
1944 photo by Steve Mars, courtesy Erasmus Hall Alumni Association



As well as Erasmus Hall High, other baseball teams to call Erasmus Field home at different times were the Bay Parkways (meaning famed teams such as the Springfield Greys, House of David, Black Yankees, and Royal Giants were regular visitors), New Utrecht High, Long Island University, and the teams of the Brooklyn-Long Island Defense League in 1943. Big games such as the P.S.A.L. and C.H.S.A.A. baseball finals were also played at Erasmus Field from time to time.

Among professional football teams, MacMonigle's Blue Devils, the Bay Parkways, Brooklyn Eagles, and Brooklyn Bears all called Erasmus Field home in different years. In 1944 the Brooklyn Football Dodgers used Erasmus Field as a training facility. National League soccer matches were also played at Erasmus Field in the 1940s.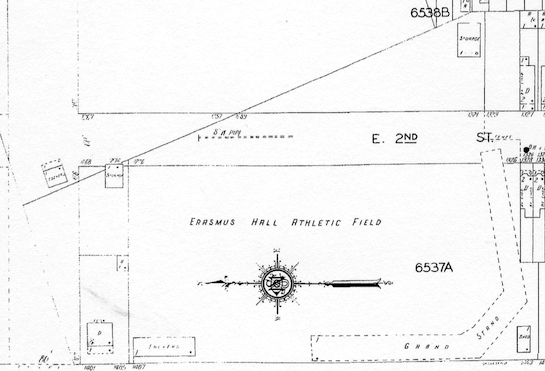 On April 30, 1929, Al Caponigri of Brooklyn Tech pitched the first no-hit game at Erasmus Field, twirling seven perfect innings to defeat New Utrecht, 7 to 0. Knudsen of New Utrecht did smash a sure double, but missed first base as he ran, and was called out there. On April 8, 1931, New Utrecht High pitcher Antonio Belluci threw a one-hitter at Erasmus Field against Theodore Roosevelt High, winning 4 to 0. In a near repeat of history, that single hit was a deep one with two out in the second inning, after two walks and an error had loaded the bases, but the hitter (and opposing pitcher) Biggs failed to touch second on his way around the bases, and no runs scored. Soon afterwards, on May 9, Erasmus Hall hurler Ivan McPherson no-hit Manual High in a 2-0 victory.

Among many Bay Parkways semipro highlights, a standout is the play of one armed outfielder Pete Gray on August 13, 1939. He went error free in a double header against the Royal Giants, taking two "sensational catches" and really starred with the bat. In game one, he was 2 for 5, and in game 2 he went 5 for 6, winning the game in the tenth inning by beating out a bunt, stealing second, and making it home on Zaiser's single to short center. The Bay Parkways took the twin bill 17-2 and 5-3. In that same season Parkways pitcher Abe Spiro, a local semipro standout for many years, had his finest season, reeling off nine straight wins at one point and finishing with an 18-6 record.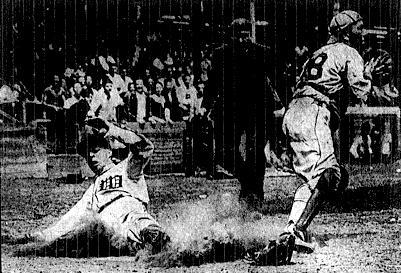 Plays at the plate - a run for George Washington High in
the 1936 PSAL final, Erasmus Hall scores with style in 1954
1954 photo by Kenneth Goldman, courtesy Erasmus Hall Alumni Association



In the late 1940s, when the Brooklyn Eagle ran annual series at Ebbets Field pitting all-star sandlot nines of Brooklyn against visiting squads from the USA and Canada, tryouts and practice were held at Erasmus Field. Many young Brooklyn players were given the chance to improve their game with help from Dodger coaches and scouts.

During the Bay Parkway era, maintenance of Erasmus Field was paid for by Max Rosner's rent money, as well as that of the various football teams using the field. A zoning law change in the 1940s saw professional sports banned from school fields, and by 1948 the school could no longer afford to keep such an elaborate facility. The city purchased Erasmus Field, where the stands had been condemned, for $13,000 plus back taxes, and undertook $60,000 worth of renovations. Sadly, this was spent on constructing a new field house then razing the stands in 1952, leaving a usable field with space for no fans. Baseball continued, but football disappeared from Erasmus Field until 1994.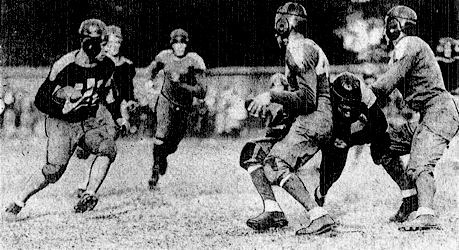 On October 24, 1931, a football doubleheader at Erasmus Field drew 12,000
fans. Erasmus beat Hamilton, 8 to 0, and New Utrecht beat Manual, 12 to 6.



On August 1, 1954, the Parkviews of the Coney Island League met the Falcons of the Shore Parkway League at Erasmus Field, with the All-American Amateur Championship of Brooklyn on the line. The Falcons shelled the Parkviews starter, young Sandy Koufax, scoring eight times in the first two innings, en route to an 11-3 victory. Bobby Giallombardo collected the win, and smacked a three run homer over the right field wall. Giallombardo's win was his 50th in a row in sandlot play, over five incredible seasons. He was signed by the Dodgers, and had good years in Reno and Montreal, but never got to the majors. Losing pitcher Koufax was signed by the Dodgers, too, and went on to far bigger things.

Erasmus Field saw one awful baseball tragedy. On June 28, 1936, during a semipro game, Harry Kronenberg was hit in the head by a pitch and fell to the ground. He finished the game after taking some water, but was rushed to hospital during the night and did not survive.





1947 - Dodger scout John Carey offers some pointers
to potential sandlot all stars.



Erasmus Field was renovated before the 1994 football season and rechristened Sid Luckman Field, in honour of the former Erasmus Hall quarterback who won a city title and went on to become an All American at Columbia, and lead the Chicago Bears to four NFL titles during the Monsters of the Midway era in the 1940s. The field house was named for another Erasmus alumnus in the Football Hall of Fame, long time Raider coach and owner Al Davis. Sid Luckman Field in this incarantion was primarily a football ground for Erasmus Hall, but its Astroturf surface also had facility for baseball, softball, and soccer. The Erasmus Hall baseball team moved to the Parade Ground after the renovation, however.

Erasmus Hall's softball squad highlighted a 10-6 season in 2009 with two stirring comeback victories at Sid Luckman Field. On April 29, Erasmus scored four runs in the bottom of the sixth to defeat Benjamin Bennaker Academy 18 to 16, despite pitcher Juanita Williams giving up 22 walks. On May 8, the Dutchwomen did even better, bringing in five runs in the bottom of the seventh for a last gasp 17-16 win over South Shore. Amoy Gordon, playing first base, drove in four runs and scored four.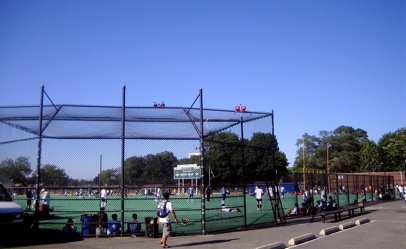 Sid Luckman Field around 2006
Aerial photo taken from Bing Maps



A second round of renovations began at Sid Luckman Field in September, 2009. The field was completely excavated and it was reopened in 2011, with bright new Fieldturf style artificial grass, and markings for baseball, softball, football, and soccer. On April 20, official baseball returned to this field for the first time in many years, as Erasmus Hall defeated Prospect Heights, 6 to 2, en route to a sterling 14-1 season record.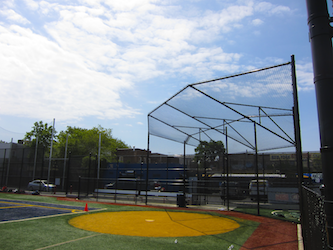 Sid Luckman Field in June, 2011



Many thanks to Alan F. Stein of the Erasmus Hall Alumni Association for his help with this page.


---
BrooklynBallParks.com is brought to you by
Andrew Ross (wonders@brooklynballparks.com)
and David Dyte (tiptops@brooklynballparks.com).
Please contact us with any corrections, additions, or requests.