Dexter Park
Dexter Park was located in the Queens neighborhood of Woodhaven, just north of Eldert Lane and Jamaica Avenue, barely across the county line from Brooklyn. It had a long early history as a recreational park, which replaced a racetrack. Legend has it that the track was named for a famous horse called Dexter, reputedly buried at the site. But the Brooklyn Eagle disputed this claim in 1891:

The name of Hiram Woodruff recalls Dexter Park. Hiram was the first owner of that property, and, until five or six years ago, his name still appeared in big letters over the horseshed adjoining the hotel. Then the shed was blown down, and when it was rebuilt the name of Hiram Woodruff had disappeared. But Dexter Park did not take its name from the famous trotter owned by the proprietor of the place. It was known simply as Hiram's, and when Woodruff died a man named Charles Dexter took charge of the place. From that time on it has been known as Dexter Park.

After Dexter the park was owned by Charles Durlier, then Louis Miller. Much of the 19th century activity at Dexter Park under Miller's ownership involved pigeon shooting, and we'll leave that topic alone. In 1885, the South Side Observer noted, with disapproval, that the park had become a base ball destination:

Dexter's on the plankroad and just east of the Kings county line is a complete resort for Sunday base ball players. The participants are a class who have been under the eye of the Kings County authorities for some time, but escaped arrest by stepping over into this county. Applause and yelling are the order of the afternoon, and intoxicants are sold.

The first regular base ball team at Dexter Park appeared soon afterwards - the Brooklyn Elevated Railroad team of 1889, opening the grounds with a game against the Merritts on April 14, and continuing to play on Sundays throughout the season. During the 1890s, the Royal Arcanum League played matches at Dexter Park, also.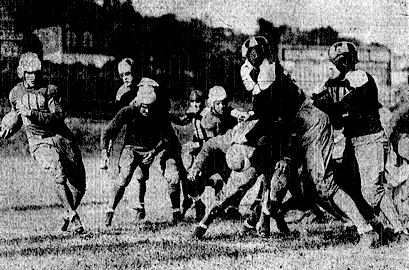 Quarterback Bob Sheppard leads St. John's over Vermont in 1931



In 1901, the park was purchased by William Ulmer Brewery, and Conrad Hasenflug was installed as proprietor. Along with sundry other amusements, Dexter Park became a popular venue for football and baseball. Baseball was especially popular on Sundays, since blue laws were less strongly enforced in Queens than Brooklyn. The Herkimer A.A. football team was a prominent tenant at this time.

The Brooklyn Royal Giants were important baseball tenants at Dexter Park - from 1905 to 1913 as a strong club under John Connors' control, and then during their less storied time under Nat Strong with the Eastern Colored League from 1923 to 1927. Even after the Royals officially left Dexter Park, they were regular visitors and friendly rivals to the semipro Bushwicks.

Max Rosner's semipro Cypress Hills nine made Dexter Park their home from 1911. The Cypress Hills were never as successful as Rosner might have wished, and on September 8, 1912, they played in what was surely the worst game ever seen at Dexter Park. With Frank Bowerman, a former major league catcher, making two errors at first base in the first inning, the visiting Pittsburg Giants raced to a 3-0 lead. Bowerman was benched, but the rout continued, mercifully ending after two hours and ten minutes, with the Giants winning 23 to 0 and the Cypress Hills making 17 errors, six of those by second baseman Titus. Borden, Collins, and Hayes each scored four runs for Pittsburg, and pitcher Greene allowed just six hits.





After Wallace's Ridgewood Grounds burned down in September 1917, Max Rosner's Brooklyn Bushwicks, the top semipro outfit in the area, needed a new home. In 1918 they leased Dexter Park, and never left. In time, the Bushwicks would become so strongly identified with their home field that newspapers would routinely refer to them as the Dexters. The team defended its turf stoutly - in July, 1940, catcher Walter Van Groski waded into the stands after fans threw bottles and cushions during an argument over an overturned home run. After he roughed up one fan who denied any wrong doing, the fray moved to the field and 100 spectators invaded the diamond. Eventually, the police were called to clear the field and avert a riot.

Like any good ballfield, Dexter Park had its share of great home fans, too. Al Edly, a regular spectator in the 1940s, recalls: I remember two family houses beyond right field. The landlords would sit on the first base side and root for the Bushwicks, while the tenants would sit on the third base side and root for the visitors. Hilda Chester was a frequent visitor and would humorously give Tim Adams a hard time, yelling "pull up your pants, Timmy." He would tug at them for a second to humorously acknowledge her. I remember Tommy Brown playing shortstop there; some of his throws to first were over the first baseman's head and a joke went around that nobody wanted to sit in the box seats behind first base. Of course Brown broke in with the Dodgers as a 16 year old in 1944. Old Gold sponsored the broadcasts and, whenever a Dodger hit a home run, they'd slide a carton of Old Gold's down the screen but they couldn't do it for Brown because he was under age.

In 1922 Strong and Rosner purchased Dexter Park, and in 1923 built a new steel and concrete grandstand with a capacity of 6,000. 2,000 extra bleacher seats were added in 1924. Max Rosner's son Herman put his electrical engineering degree to good use, installing the first focused lighting system for any baseball field at Dexter Park in 1930. Dexter Park's first night game was July 23, 1930 - five years before any major league venue. 4,500 fans saw the Springfields win their 14th straight game, with star pitcher Dominick Torpe defeating the Bushwicks, 5 to 2. The field was so well lit that it "gave the appearance of perfect daylight." Night baseball was such a novelty that the local papers persistently mentioned the "blazing arc lights" for years to come.





Perhaps the greatest game in Dexter Park history was played between the Royal Giants and the Bushwicks on March 30, 1924. A week shy of his 38th birthday, "Cyclone" Joe Williams entered the game in first inning relief after Lefty Flournoy gave up two runs to the Bushwicks. Unperturbed, Williams fanned 11 of the first 12 men he faced, striking out the side in the third and fourth innings. The Royals scored in the third and sixth to tie the game up, and the zeroes started to pile up. Williams struck out the side again in the seventh, but the Giants could not break the tie until the top of the 12th. Sent out to protect a 3-2 lead, "Cyclone" Joe tired at last with two out in the bottom of the 12th, giving up hits to Weiss, then Becht, who had struck out in his four previous times at bat, then Deufel. Becht reached home by a "scant margin" on Deufel's hit to win an epic encounter for the Bushwicks, 4 to 3. Williams finished with 25 strikeouts.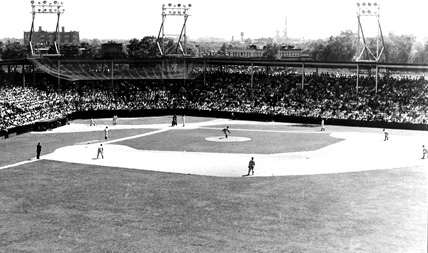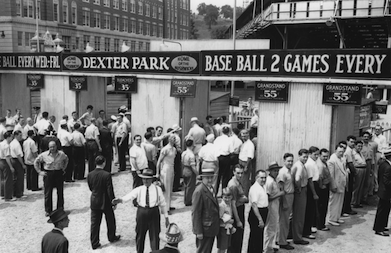 Dexter Park at the height of its beauty
Entrance picture courtesy brooklynpix.com




Even during the years of its greatest baseball fame, Dexter Park remained a venue for all kinds of sports. High school and college football matches were a regular Fall event, attracting crowds near 10,000 at times. On November 1, 1930, a section of the stands seating 500 fans collapsed during a game for the all-Queens title. Amazingly, no-one was injured, and Jamaica went on to defeat Richmond Hill 25 to 2. Outdoor boxing, too, had its season each year under the lights. On May 24, 1926, 10,000 spectators braved unexpectedly cold weather to witness the first card of the year, disputing one result so loudly that the announcer was unable to introduce the next bout. Eddie Burnbrook knocked out Willie Dillon in the main contest. Soccer, roller derby, and rodeo were also seen at Dexter Park from time to time.






The capacity of Dexter Park was increased gradually, reaching an official limit of 15,400 in the 1930s. However, crowds of 20,000 and 16,500 were reported for the visits of the Bay Parkways in 1933 (with Carl Hubbell) and 1935 (with Babe Ruth). The recently retired Sultan of Swat smacked a home run in the first inning off 44 year old Dazzy Vance.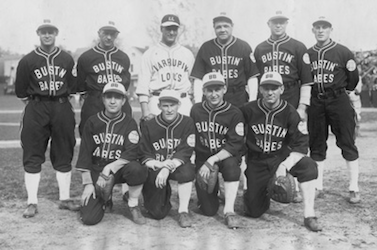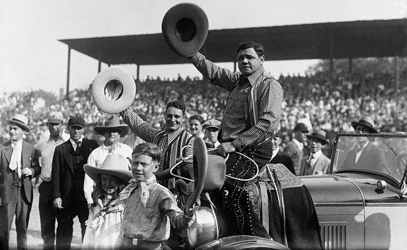 Babe Ruth and Lou Gehrig bring their all star squads
in 1927, and promote the World Series of Rodeo in 1928



In February, 1928, the Brooklyn Eagle reported that Nat Strong and Max Rosner were prepared to buy a 50% interest in the Dodgers, or 100% if necessary, and build a new stadium at Dexter Park to seat 125,000 fans, enough to ensure the park would "last for all time." Rosner went so far as to say they could pay in cash. The offer was not entertained by McKeever and company, however, and nothing came of it. The story persisted, though, and rumors resurfaced in August, 1941. At the time, the Dodgers owed the Brooklyn Trust Company a great deal of money, and the president of that company, George McLaughlin, had been seen at a baseball contest at Dexter Park. Further, he had been seen in deep discussion with none other than Max Rosner. Two and two were put together, and a sum of 100,000 was reached - a stadium of that size, for the Dodgers, at Dexter Park. Rosner was quick to set the record straight in the Eagle - McLaughlin had been a semipro player in years gone by, and the conversation dealt entirely with the old names and places of that level of baseball. The Dodgers would be safe at Ebbets Field for a few years yet.






Dexter Park's auto racetrack
Photos courtesy of the William E. Stock Collection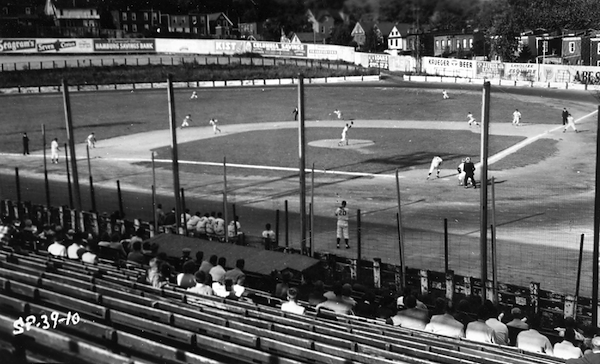 Baseball at Dexter Park in 1951 - with racetrack around the field



On July 16, 1947, Max Rosner's 45 years in semipro baseball were marked at Dexter Park with a special celebration. 6,000 fans, including many former Bushwick stars, saw a brass band serenade Rosner, and he was presented with two traveling bags and a watch. To cap off the party, the Bushwicks defeated the visiting Cleveland Buckeyes of the Negro American League, 7 to 4.

In 1951, with semipro and Negro League attendance declining alarmingly, a racetrack was installed once more at Dexter Park - this time for midget autos. This involved moving the diamond, and the Bushwicks played one last season on a smaller, lesser field than before. The midget autos did not last long, replaced by early stock cars. Max Rosner's grandson, Bennett Rosner - in earlier years a Bushwicks batboy - recalls the racing era:

The major racing that took place was stock cars, in the age of the infancy of that industry. There were two other tracks on Long Island, Central Islip and Freeport, and the Dexter Park track was built with input from the promoters from those tracks. In those days stock cars were really stock cars, not the race cars of today which are called stock cars because the body that is put on them as the skin is made to vaguely resemble a Ford or a Chevie. Nothing underneath has any resemblance to a "stock" car. The cars that raced in that era were mostly souped up Ford or Chevie coupes from the 1940's, excluding of course the war years when no cars were built. They had roll bars and seat belts and little else to make them any different looking from what you could see on the street, except for the fancy paint jobs and numbers on the sides.

Stock car racing continued through 1955, when Dexter Park was sold off for housing construction. Today, the site has some houses, but is mostly taken up by a C-Town supermarket and its parking lot. It does, at least, have a historical marker.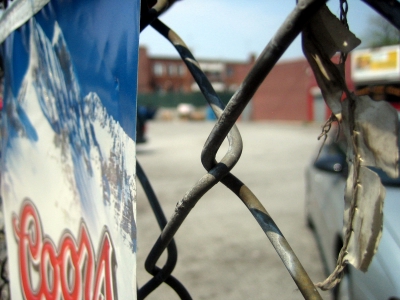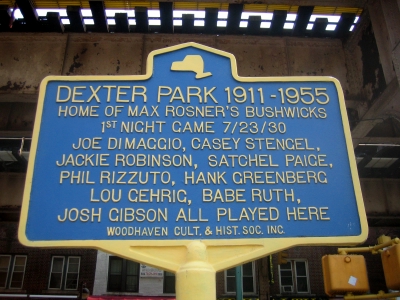 Dexter Park today- unattractive, but at
least it has a historical marker



Many thanks are due to Jane and Douglas Jacobs for access to their paper, Dexter Park: Brooklyn's Other Ballpark, which helped us a great deal in putting this and the semipro teams page together. Thanks also to James King for the use of the auto racing photos.


---
BrooklynBallParks.com is brought to you by
Andrew Ross (wonders@brooklynballparks.com)
and David Dyte (tiptops@brooklynballparks.com).
Please contact us with any corrections, additions, or requests.