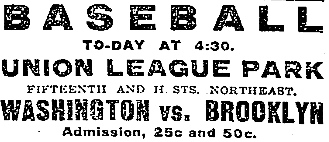 The Brooklyn Bandits
Ambrose Hussey, long serving proprieter of the successful Ridgewood semipro team, was also involved in three outlaw professional leagues, as head of the Brooklyn franchise in each.

The first was the Atlantic League of 1907. This league was organized by one Alfred Lawson. Lawson, a former ballplayer of considerable character, was the inventor of a portable light system for night matches, and a future aviation pioneer and head of his own religion, Lawsonomy. He was also a tireless founder and promoter of baseball leagues. The Atlantic League, his most successful effort, consisted of teams in various smaller cities in Pennsylvania and New Jersey, as well as Hussey's Brooklyn team. Their home field was the brand new Meyerrose Park in Ridgewood. The Eagle summed up the prevailing style of play:

Those who hunger for baseball will doubtless take the long journey to Ridgewood to see the harum-scarum article supplied by the semi-pros that make up the outlaw outfit. A bundle of errors, a few hits, and there you are. Not much different from what has been seen at Washington Park, except that the team at Ridgewood wins a bit oftener. But it isn't the same kind of baseball.

Hussey's team had a slow start, but soon began to win consistently. Brooklyn, Reading, and Allentown were the class of the Atlantic League, and fought for the lead for much of the season. Near the end of July, Brooklyn held a 2 1/2 game lead, and was still narrowly hanging on coming into September, but slipped in the final week and finished behind Reading by mere percentage points. Hussey, however, felt that the standings were not fairly tallied.





During a six hour league meeting, Hussey pleaded the case of the Brooklyns. It all centered around two games. In one, Easton had defeated Reading, but had only suited up nine men when league rules demanded ten, and therefore Reading was awarded the game in a forfeit. In another, Easton had defeated Brooklyn in the second game of a double header, but Hussey claimed it was only an exhibition. He could produce no direct evidence of this, however. John Dobbins, league president, took the side of Reading, and they retained the pennant.

It is worth noting that Lawson managed the Reading team. It is also worth noting that he held some insurance - late in the season, Hussey had used three Newark players on his Brooklyn squad, and his claim to have properly purchased their contracts may have been voided by the league had Lawson chosen to protest. The Brooklyn Eagle clearly took the side of Hussey, suggesting he had been "handed a gold brick" in place of a pennant.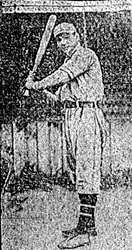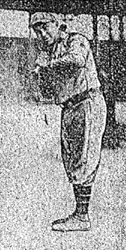 1907 Brooklyn Atlantic Leaguers at Meyerrose Park - McGee, Padron, Cuddy, Kennedy



The Brooklyn team did play Reading in two special postseason games, and helped them to raise the pennant in front of an appreciative crowd. After receiving a standing ovation from the Reading fans, Hussey said, "I tried hard to steal the pennant from Lawson, but he was too wise." There were no hard feelings, and all ended well.

At least until December.

The Atlantic League had been quite a success, against all odds. However, Lawson's intention was to aim for far bigger things in 1908. He did this by forming the Union League. Lawson took the Brooklyn, Reading, and Newark franchises with him, and set up new ones in bigger cities such as Philadelphia, Washington, and Baltimore. The 1908 Brooklyn squad was officially dubbed the Invaders after the Brooklyn Eagle and Ambrose Hussey held a contest. The winner, R.W. Wilson, received a season pass as his prize.





Hussey's Hopefuls before the 1908 Union League season



Hussey's squad retained several of its 1907 members into the 1908 season- Dowd at shortstop, team captain Cuddy at second, utility McGee, and pitcher Levy. Ernie Lindemann, the star pitcher for the Ridgewoods, also made appearances for Brooklyn during each season. The Washington Post described him as "the best and most expensive semiprofessional twirler in these parts" after he was signed four weeks into the 1908 campaign, and held the Washington team to just three hits in a 4-1 win.

It was too little, too late, however. The Invaders (also referred to as the Bandits, Hussey's Hopefuls, Hussey's Huzzars, Parsons, Unions, Trolley Dodgers, and Union Superbas) were outclassed in this league. The league itself was also lacking- in money and attendance. 5,000 may have attended the opener at Meyerrose Park, but crowds dwindled fast in most cities. Two franchises moved, then two folded. Wilmington left the league immediately after they took the lead in the standings. With Washington leading, and Brooklyn fourth of six with a 14-19 record, the Union League closed its doors on June 3. Brooklyn's final game was a 3-2 win at Allentown. Neither the Invaders nor Elizabeth turned up to play their final scheduled match.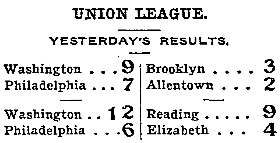 Ambrose Hussey returned his attention to his Ridgewoods, flirting with outlaw ball just once more, in 1912. He was lined up as owner and manager of a Brooklyn franchise in the United States League, but grew frustrated with two things: no-one could agree on whether the league was major or minor, and a team was admitted from Chicago, greatly increasing travel costs. Hussey walked away from pro ball for good, and the United States League lasted barely a month.





1912 United States League owners - Ambrose Hussey at far right and
Ambrose Hussey, Jr. third from left



In 1913, another outlaw circuit, again called the United States League, had a Brooklyn franchise. The majority owner was Leo Groom, and the club set to play at Marquette Oval, but days before the season began he effectively swapped franchises with Newark owner James A. Timony. Timony also happened to own Hawthorne Field, so the team was moved there. The Brooklyns never got to play a home game, however, as the league lasted just three days. Brooklyn won its opener in Washington, in front of just 300 fans despite free admission, with the team scoring five runs in the ninth to snatch a thrilling 9 to 8 victory. They never played again. Left fielder Onderdonk was 4 for 5 in the game.





Kevin Tulley and Jerry Kuntz (see his Alfred Lawson website here) deserve huge thanks for helping with this page, as well as Mark Hussey, great grandson of Ambrose Hussey, for pointing us to the superb 1912 photograph shown above.


---
BrooklynBallParks.com is brought to you by
Andrew Ross (wonders@brooklynballparks.com)
and David Dyte (tiptops@brooklynballparks.com).
Please contact us with any corrections, additions, or requests.