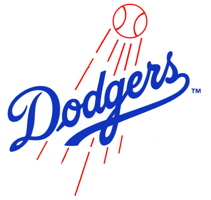 Leaving Brooklyn
He could have taken the Dodgers a few miles to where Shea Stadium is, but he took
them 3,000 miles. We had a vote among the eight top people in the front office, and
the vote was eight to one not to go to California, but the one vote was Walter's.

-- Buzzy Bavasi, 2007


---
Roosevelt Stadium
In the seasons of 1956 and 1957, as part of negotiations for a new Ebbets Field, Walter O'Malley scheduled one game against each National League opponent at Roosevelt Stadium, Jersey City. Normally this stadium was home to the Jersey City Giants, and later other Jersey City minor league teams. More importantly in Dodger history, Jackie Robinson's minor league debut with the Montreal Royals was there on April 18, 1946. He went 4 for 5, with a home run, four runs, three runs batted in, and two stolen bases. The Royals won 14 to 1.





Overhead view of Roosevelt Stadium



Roosevelt Stadium was built in 1937, with a capacity of 24,000, and demolished in 1985. The last professional baseball game was played there in 1978.


---
Los Angeles Memorial Coliseum
After the Dodgers abandoned Brooklyn in 1958, and before Dodger Stadium was completed, they played for four seasons at the Los Angeles Coliseum. This stadium was constructed in 1923, and hosted the 1932 and 1984 Olympics. It resembles an ancient Greek or Roman stadium on a far larger scale. Seating capacity has been as high as 101,000 but today it holds 95,000. The dimensions of the Coliseum were not well suited for baseball- even a giant net in left field failed to prevent a wild imbalance in home run numbers between left field - 440 feet away - and right - 251 feet. Left handed Duke Snider saw his numbers plummet dramatically after the Dodgers moved, but Wally Moon, also a lefty, hit 19 "Moon shot" home runs in 1959 by swinging late and hitting the other way.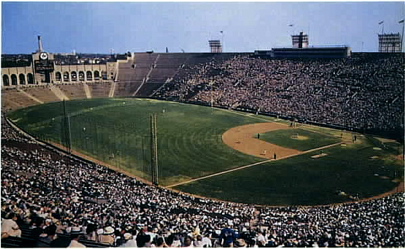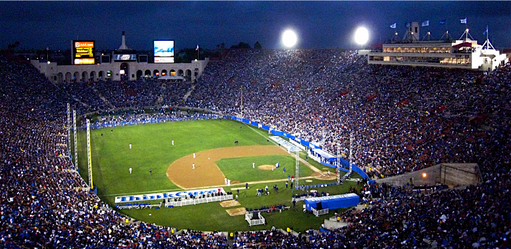 LA Coliseum in baseball configuration, circa 1958 and 2008



The Los Angeles Coliseum has hosted the Rams and Raiders of the NFL, the Dons of the AAFC, the Xtreme of the XFL, and UCLA in college football. Today the Coliseum is home to the University of Southern California football team, as it has been ever since 1923.

In 2008, the Dodgers played a special Spring training game at the Coliseum to celebrate their 50th anniversary in Los Angeles. The left field fence was even closer than before - only 201 feet from home plate - due to the replacement of the running track with extra seats for USC football. Tickets were sold for a special standing room section at ground level, and as a result a world record baseball crowd of 115,300 attended. The Red Sox defeated the Dodgers 7 to 4.


---
Dodger Stadium
In 1950, the City of Los Angeles began eminent domain proceedings to force a poor Hispanic community out of the valley of Chavez Ravine, claiming the intended housing development could house many members of the same community one day soon. In fact, no housing development ever took place. The city eventually put a stadium there for Walter O'Malley - Dodger Stadium. Dodger Stadium cost $23 million to build and opened in 1962, with a capacity of 56,000. The stadium was designed with expansion to 85,000 capacity in mind, but such a project has never been undertaken. It has remained basically unchanged since 1962, with a series of renovations, most recently in 2005, having a mostly cosmetic effect.






Panoramic view of Dodger Stadium in 2004
Picture courtesy Stacy Cowley



Dodger Stadium was also home to the expansion Los Angeles Angels* for four seasons. They insisted on referring to it as "Chavez Ravine" throughout, before moving to a field of their own in Anaheim.

* Later the California Angels, then the Anaheim Angels, and now going by the ridiculous name The Los Angeles Angels of Anaheim.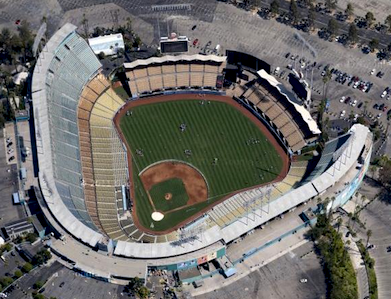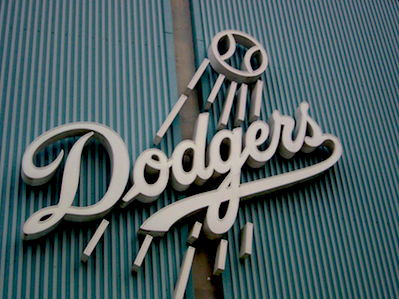 Dodger Stadium from overhead, and detail from the structure
Overhead picture taken from Google Maps



Dodger Stadium has acquired its own place in popular culture through the years. The Dodger Dog - grilled, not boiled - is a wildly popular staple food for fans. Such acts as the Beatles and the Rolling Stones have played concerts at Dodger Stadium, and it has made numerous movie appearances. In 2005, Ry Cooder recorded a concept album, Chavez Ravine, telling the story of the local community being forced from the land.

Memorable moments at Dodger Stadium have included Sandy Koufax's perfect game in 1965, and Kirk Gibson's game winning home run in game one of the 1988 World Series. 1981 saw Fernandomania grip Los Angeles as Mexican pitcher Fernando Valenzuela starred on a World Series winning team, and similar hype surrounded Japanese pitcher Hideo Nomo in 1995. The Dodgers have played more games at Dodger Stadium than they did at Ebbets Field. They've won nine pennants and five World Series in Los Angeles, and changed owners three times.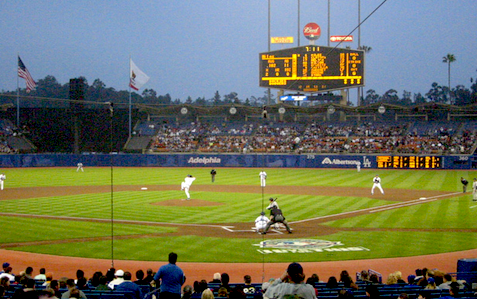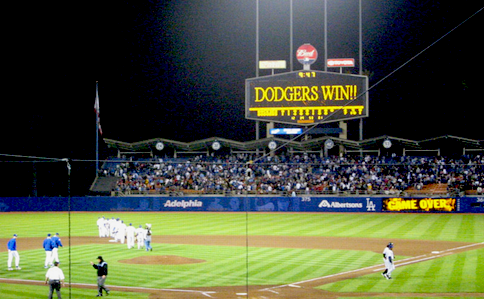 Dodger Stadium in 2004 - the Dodgers beat the Rockies



With the likes of Tiger Stadium and Comiskey Park having long since bitten the dust, Dodger Stadium now holds a curious place as the third oldest stadium in the major leagues, trailing only Fenway Park from 1912 and Wrigley Field from 1914. It seems immune from further threats of a move, but the ways of team owners are never safe to bet on.

Dodger Stadium has been home to the club for over 50 years. But Byrne's men will always truly belong to Brooklyn.


---
BrooklynBallParks.com is brought to you by
Andrew Ross (wonders@brooklynballparks.com)
and David Dyte (tiptops@brooklynballparks.com).
Please contact us with any corrections, additions, or requests.