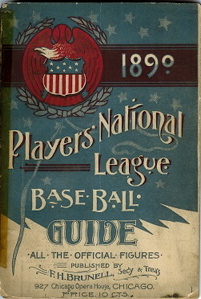 1890 and the Orphan Teams of Brooklyn
1890 was a uniquely bizarre year in Brooklyn baseball history - there were teams in three different major leagues. Two of these teams lasted only for that one season, though, leaving the Dodgers-to-be as the last major league team Brooklyn would see until 1914.

In an ultimately doomed attempt to improve conditions for professional baseball players, a rebel group, led by John Montgomery "Monte" Ward and Ned Hanlon, formed a completely new league from scratch. Members of Ward's union, the Brotherhood of Professional Base-ball Players, jumped en masse from the National League and the American Association to staff the new Players League, and the clubs were often referred to as Brotherhood teams. The league's Brooklyn entry was managed and captained by Ward himself and known by his name- Ward's Wonders. The Wonders signed a lease on the new Eastern Park, which was far from baseball's South Brooklyn fan base, but very well served by trolley lines and a railway stop.

The Wonders were a team of quality that began the season with high hopes - "a dark horse for sure," manager Ward said - although lopsided practice wins against the likes of the Actors' Amateur Athletic Association of America were far from reliable as a measure of their prowess. Early league results were mixed, and by July 5 the squad sported a 33-32 record. But two days later Gus Weyhing blanked Chicago, 9-0, sparking a 15-3 run, including a three game set against Buffalo when Ward's men scored 51 runs, that saw the Wonders become serious contenders for the pennant. They returned to mediocre play after that, however, and eventually finished in second place, 6.5 games behind King Kelly's Boston Reds with a record of 71-61.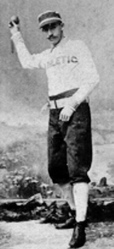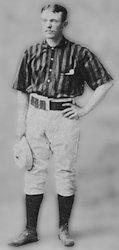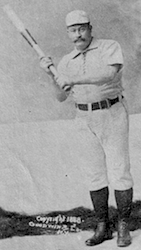 Gus Weyhing, Monte Ward, George Van Haltren, Dave Orr



Gus Weyhing was the star of the club, going 30-16 with a 3.60 ERA, and pitching a Herculean 390 innings. Manager Ward played shortstop and stole 63 bases, while first baseman Dave Orr drove in 124 runs. George Van Haltren won 15 games as a pitcher, and also played outfield, hitting .335.

After the 1890 season, the Players League seemingly held the upper hand in negotiations with the National League and the faltering American Association, but their backers wavered, and the league disbanded. The Boston Reds went to the American Association and duly won its final pennant in 1891, while the Wonders, after lengthy and often bitter negotiations, merged with the National League champion Bridegrooms. Ward became manager of the National League squad for 1891 and 1892, and the team played at Eastern Park for seven more years.




Brooklyn Wonders, Brooklyn Gladiators



The Brooklyn Gladiators, known more usually in the papers as Kennedy's Men for owner-manager Jim Kennedy, and Kennedy's Kids elsewhere due to his young age, a mere 22, were a hastily arranged entry in the American Association of 1890. The Bridegrooms had won the pennant in 1889, but immediately jumped to the National League. The Association could not afford to lose a presence in such a large market, so a team was assembled from parts, largely second stringers from other Association clubs, and installed at Wallace's Ridgewood Grounds. The team was initially referred to as the Ridgewood Club on occasion, but soon became universally known as Brooklyn.

Kennedy's Kids began the season poorly, winning only 4 of 22 games, and never gained any momentum. This was the worst team in a league already badly affected by the mass exodus of talent to the Players League. As the season wore on, newspaper reports concentrated less on the team's performance and more on Kennedy's complaints about the umpires. A brief run in June saw the Gladiators win 6 of 10, with a tie, and a jubilant Kennedy said, "some other club will soon have to occupy the tail-end." Sadly, however, the team won just one of its next 17 matches, and the tail-end was Brooklyn's to keep.

Due to low attendances, the Gladiators first abandoned Ridgewood in June for the Polo Grounds in New York, then became almost a road team. They followed the first Polo Grounds game with a 34 game road trip, played seven more home games in New York and two at the Long Island Grounds - one forfeited in sensational fashion for a lack of new base balls, then finished with a 19 game road trip. The Gladiators lost their last 14 games to finish 11.5 games out of second last place, with a dismal 26-73 record. Mercifully, Kennedy's Men did not play a second season.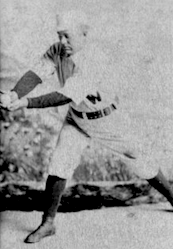 Ed Daily, Jumbo Davis, Billy O'Brien



Only Ed Daily won 10 games for the Gladiators, although he lost 15 in the process. He also played outfield and stole a remarkable 49 bases in 91 games. Other relatively effective players were first baseman Billy O'Brien, whose 108 hits led the squad, and third baseman Jumbo Davis, who hit .303 after being traded from St. Louis.


---
BrooklynBallParks.com is brought to you by
Andrew Ross (wonders@brooklynballparks.com)
and David Dyte (tiptops@brooklynballparks.com).
Please contact us with any corrections, additions, or requests.